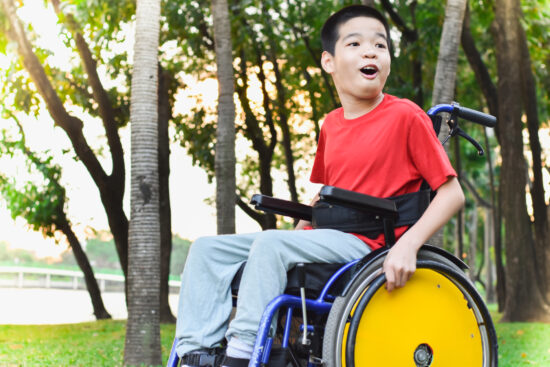 Spinal Cord Injuries (SCI) before the age of 15 are a relatively rare occurrence. While the exact number is unknown, it is estimated that less than 4% of all SCI's occur in those under 15 years. However, the rate of SCIs increases rapidly with age, with more than 30% of SCI's age 17-23, and 53% between ages 16-30.
The two major mechanisms of injury for pediatric patients include motor vehicle accidents (MVA) and sporting activities. Most of the research indicates that more males experience SCI than females, and ATV's are responsible for more SCI in children than adults.
While neurological recovery is thought to be better in children than adults, with incomplete lesions having the best prognosis, there are no studies comparing adults and children in terms of recovery and is therefore difficult to clearly establish this as fact.
The need for assistive technologies can be great for individuals with SCI. Depending upon the level of SCI, mobility devices, augmentative communication devices, and orthoses can greatly impact independence and quality of life. The LifeScape pediatric rehabilitation program is led by physiatrist Julie Johnson, MD. LifeScape staff, along with RISE Custom Solutions clinicians, form the regions leading team in assistive technology. In fact, our team comprises 80% of those in South Dakota with certification as a seating and mobility specialist (SMS). Whether you or someone you know has been a user of assistive technology for decades, or anticipate a need in the future, LifeScape and RISE can meet your unique needs through evaluation and fitting of custom equipment.