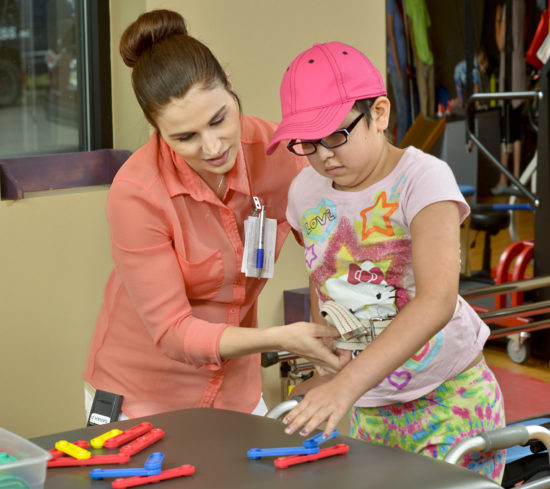 Physical therapists help clients to reduce pain, recover from injuries, and improve overall mobility. We provide outpatient physical therapy at three convenient locations—Sioux Falls, Rapid City, and Sioux City.
We Focus On:
Developmental skills such as sitting, crawling, walking, and jumping
Strength, range of motion, and endurance
Stretching or relaxing tight muscles, including serial casting and torticollis treatments
Functional mobility with assistive devices, such as manual and power wheelchairs, walkers, and gait trainers
Incontinence of the bowel and bladder in children
Toe-walking in children
Many other skills related to movement
Seating & Wheeled Mobility
The LifeScape Seating & Wheeled Mobility Program utilizes a highly trained and experienced staff of occupational therapists, physical therapists, equipment specialists, and equipment technicians to get the right equipment the first time. We also provide you with service to keep meeting your needs, even as they change.
Experienced, Highly-Trained, and Certified Staff
Over 170 years of combined experience
More RESNA-certified Seating and Mobility Specialists than any other provider in the six-state region
Continually trained in the latest best practice techniques
State-of-the-Art Evaluation and Training Equipment
History of your skills, mobility needs, and previous equipment
Head-to-toe joint, bone, and muscle assessment, as well as body measurements
Seating simulator to make sure your wheelchair fits and works for you before ordering
Custom molding to capture and support your exact shape
Pressure mapping to help prevent and heal pressure ulcers
A fleet of powered wheelchairs available for evaluation and training
Extensive alternative driving controls to help nearly anyone drive a power wheelchair independently
Interested in Learning More?
Learn more about how we can help by calling us at 605-444-9700. Or, fill out a short form with your information and we'll be in touch with you shortly.
Contact Us