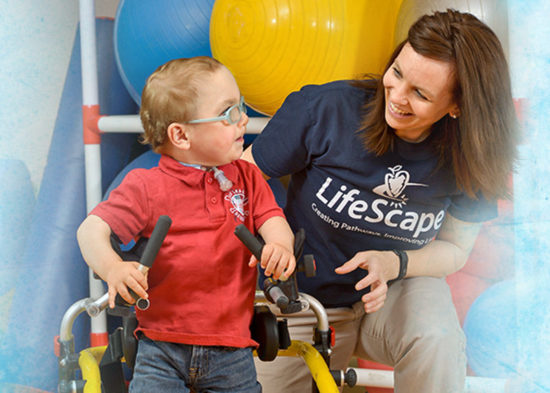 LifeScape's highly-skilled team of physical therapists focus on a variety of motor skills. From functional mobility with assistive devices and range-of-motion to torticollis and incontinence treatment, your child will receive the best care in the region.
Gross Motor Development

Physical therapists work on the child's ability to walk, run, jump, and climb stairs. They also work on strengthening different muscle groups and working on the coordination needed to complete those activities. Adapted equipment such as a gait trainer and other learning strategies may be used to help children learn how to do these activities independently.
Sessions May Include:
Obstacle courses
Practicing different mobility skills
Different exercises to help strengthen certain muscle groups
Use of adapted equipment when needed to enhance the child's ability to be independent
Who Benefits from Gross Motor Development:
Children with delayed motor skills
Children who aren't meeting developmental milestones
Children who show signs of poor strength or coordination in their lower extremities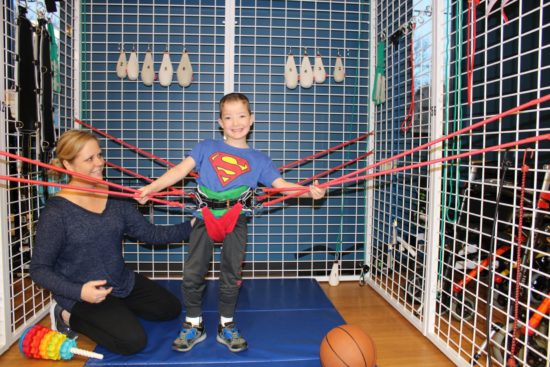 Universal Exercise Unit
LifeScape Rehabilitation Center in Sioux Falls offers the Universal Exercise Unit (UEU) for advanced physical therapy. Also known as the "spider cage," the UEU allows therapists to isolate muscle groups for targeted treatment. It also provides full support of the patient, allowing the therapist to work hands-free. This approach allows children to make great strides in therapy. We are the only clinic in the area offering the UEU.
Mobility
Mobility looks different for every child. LifeScape physical therapists use a variety of adapted strategies to help children be as independent as possible. These may include gait trainers and wheelchairs. They can also assess if adapted equipment would be beneficial to help a child be independent in their mobility skills
Click Here for Listing of Our Physical Therapists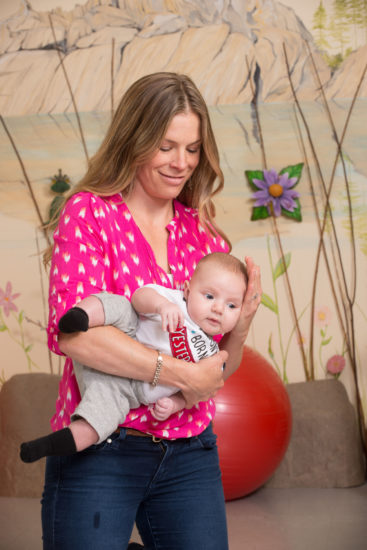 Torticollis Treatment
Torticollis, tightness in one or more of the neck muscles, is one of the most common diagnoses seen in infants today. With early intervention, torticollis is manageable, and infants have an excellent prognosis. LifeScape offers comprehensive and skilled physical therapy services to address torticollis, no matter the cause.
Causes of Torticollis:
Intrauterine positioning (especially with multiple births)
Traumatic birth
Asymmetrical positioning
Visual disturbances
Bony anomalies of the spine
Reflux
Neurological Syndromes
Advantages of Early Intervention (before three months of age):
The rapid growth of the head at an early age helps in resolving or preventing plagiocephaly
Increased elasticity of the muscles
Less voluntary resistance to stretching/treatment
Shorter duration of treatment
Decreased probability or need for cranial orthotic (helmet)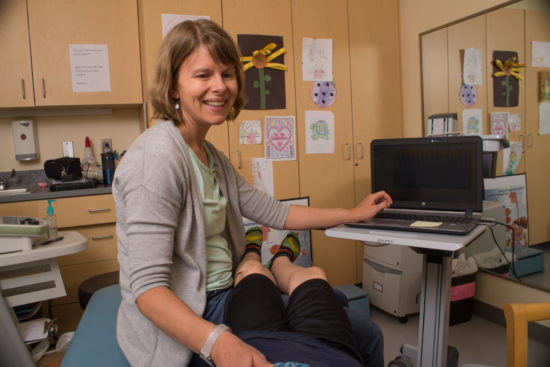 Pediatric Bowel & Bladder Treatment
LifeScape can treat children five years and older, who are not yet toilet-trained, with a variety of bowel and bladder issues.
Causes of Incontinence:
Muscle weakness
Decreased coordination between pelvic floor muscles and sphincters
Constipation
Developmental delay and delayed maturity of the nervous system
Frequent urination or frequent sudden urges to urinate
Types of Incontinence:
Urinary incontinence
Dysfunctional incontinence (including stool withholding)
Nighttime bed wetting
Regression wetting
What to Expect
Our treatment program combines behavioral and physical therapies, aided by biofeedback and muscle management techniques. Biofeedback allows us to evaluate the function of specific muscles in the pelvic floor, custom design a treatment program, and measure results. Monitored by noninvasive, comfortable sensors, the patient sees his or her muscle activity on a computer screen in a form that enables biofeedback training in a fun and kid-friendly way.
Interested in Learning More?
Learn how we can help your child be as independent as possible by calling 605.444.9700. Or, fill out a short form with your information and we'll be in touch with you shortly.
Contact Us