Following complex surgery, patients may have substantial ongoing healthcare, therapy and/ or equipment needs impacting their ability to return home directly after surgery. The Children's Specialty Hospital team specializes in the care your child will need following surgery. We have the equipment needed to support children following all type of surgeries. We work collaboratively with children and their families to achieve optimal recovery and a comfortable discharge plan.
"It made such a difference for us to be able to do our rehab back in Sioux Falls for Davis and our family. Not only did it make life for us that much easier during his intense therapy schedule, but Davis had such great individualized care and therapy since we were in a smaller facility. The staff had been fully trained by Gillette and had all the proper equipment, so we knew Davis was getting the same great therapy, just closer to home. We are so glad this was an option for us and would highly recommend it to others."

-Anne Harrington, mother of post-surgical patient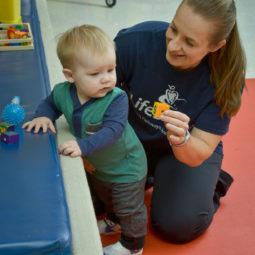 We Know How to Help
Our team uses age-appropriate treatment techniques and tools, including toys and games, to increase your child's comfort and participation in therapy sessions.
Advanced training and collaboration from other medical facilities specializing in orthopedic and neurosurgeries such as Gillette Children's Specialty Healthcare in St. Paul, MN. We offer rehabilitation following Selective Dorsal Rhizotomy Surgery, so that area children may recover closer to home.
Next Steps: Experts in Transitioning to Home
Coordination of care: Our care coordinator and the team will assist in finding medical providers in your area and setting up any medical appointments your child may have during hospitalization and after discharge.
Community transition experiences are encouraged so families can practice therapy activities in real-life settings before going home. The rehab team will help coordinate community outings with specific goals for your child to help build his/her confidence and independence in getting back to community interests and routines.
Family conferences: The rehab team meets regularity with the patient and family throughout their rehabilitation journey to discuss progress and goals. We work with your child's school to inform them of any special needs and to help with the transition back to school.
Therapists will assess, identify and recommend appropriate assistive devices and/or adaptive equipment for your child in preparation for discharge to home. The team will seek funding and ensure proper training prior to discharge.
The rehabilitation team will educate and train families, caregivers, and school personnel on specific needs, goals, or exercises your child may need in order to be discharged to home.