Pediatric Feeding & Swallowing/Nutritional Therapy
Our Children's Specialty Hospital offers a comprehensive and multidisciplinary approach for evaluation and treatment of feeding and swallowing disorders. Our feeding clinic at LifeScape can help identify the specific challenges your child may be having with feeding and offer a wide variety of program options to meet the unique needs of your child. Call or email us at 605-444-9700 for details.
We Know How to Help
Our therapists have advanced training in a wide variety of therapy approaches to feeding. Our team assesses multiple areas, including oral motor skills, sensory challenges, self-feeding skills, behavior, motivation levels, and the environment. With this, our clinicians establish a comprehensive treatment plan that recognizes the root of the problem, achieves results, and leads to happier, healthier families. Whether your child is a picky eater, has aversions to entire food groups, or now is tube-fed and you'd like her to be weaned to eat and drink regular food, we know how to help. Have concerns? Call 605-444-9778 for a Free Feeding Screening today!
Treatment Options: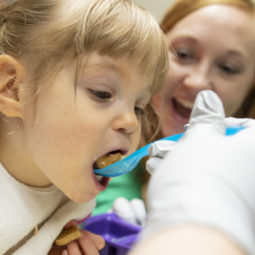 Outpatient Program
Recommended for patients who have feeding and swallowing difficulties that can be managed and treated with a frequency of one to three therapy treatments per week. Many patients begin here and transition to a more intensive program. Outpatient feeding therapy is available at LifeScape in Rapid City, SD; and three locations in Sioux Falls - at our Rehabilitation Center, Autism & Child Development Center, and Children's Specialty Hospital.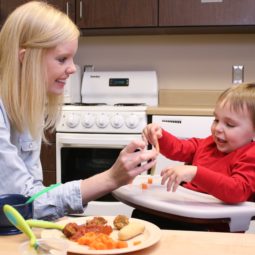 Intensive Day Program
This 2-4 week program at Children's Specialty Hospital at LifeScape is recommended for patients who may not need round-the-clock medical attention, but have feeding difficulties that are severe enough to warrant high-frequency therapy. Speech and occupational therapy sessions will take place three to four times a day, five days a week. The patient has a room in the specialty hospital to use as a base between therapy sessions for the duration of his/her treatment.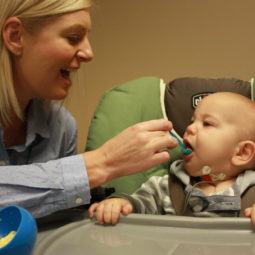 Intensive Inpatient Program
This 2-8 week program is recommended for children with severe feeding difficulties (feeding tube dependence, malnutrition total food refusal) who may have higher medical needs or a need for close monitoring by medical professionals. May be recommended for patients who are ready for tube weaning or have trialed outpatient therapy with little success. This program involves evaluation and monitoring by a gastrointestinal physician as well as oversight by a pediatrician. Private and semi-private rooms at Children's Specialty Hospital at LifeScape can accommodate a parent or guardian who wishes to stay with their child.