Speech-Language Pathology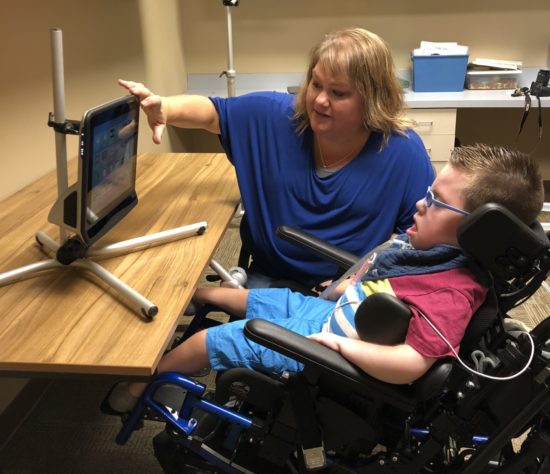 Our therapists have the experience and knowledge of working with children of all abilities. They're able to enhance a child's speech sounds and augment speech efforts to help them be successful. We also offer Augmentative & Alternative Communication services at the LifeScape Rehabilitation Center in Sioux Falls and at our outpatient centers in Rapid City and Sioux City.






Communication Challenges
If your child is showing delays in pronouncing or annunciating certain words, a speech therapist can work on articulation errors. They work on both expressive and receptive language skills with your child and focus on helping them articulate letter sounds correct.
Sessions May Include:
Playing games
Reading books
Creating opportunities for the child to practice certain sounds
Showing the child how to develop that sound using visual cues
Communication Devices
Augmentative and Alternative Communication (AAC): Assessment provided to determine and recommend methods, devices, aids, techniques, symbols, and/or strategies to represent and/or augment spoken and/or written language in ways that optimize communication
Switches provide access to communication devices

Empower children with limited mobility to play and interact with a variety of adapted toys
Control environments by turning on items such as fans, blenders, and music
There are many types of switches that can be used at various access points
Communication Devices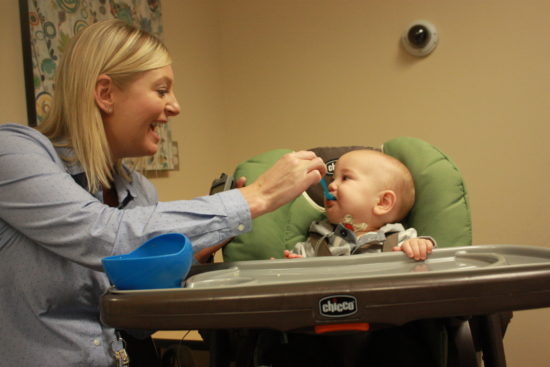 Pediatric Feeding & Swallowing Program
LifeScape offers an interdisciplinary Feeding Clinic that features a continuum of care—outpatient, intensive day, and inpatient treatment—to meet every patient's needs. A multidisciplinary team will assess a variety of areas to develop the best comprehensive plan for addressing all feeding and swallowing needs: oral motor difficulties, swallowing dysfunction, sensory difficulties, behavioral difficulties, and self-feeding.
Goals of Our Program:
Transitioning from tube to oral feeding
Improving bottling skills
Promoting consistent mealtime acceptance
Decreasing behavioral challenges at mealtimes
Increasing the volume and/or variety of foods a child will eat
Improving oral sensory issues related to restricted eating problems
Improving oral motor skills for feeding and swallowing
Improving oral and pharyngeal skills for safe eating and drinking
Promoting developmental skills for feeding: self-feeding, cup use, and utensil use
Training caregivers for generalization into the home environment
Promoting weight gain
Click Here for Listing of Our Speech-Language Pathologists
Outpatient Program
This program is recommended for patients who have feeding and swallowing difficulties that can be managed and treated with a frequency of one to three times a week. Some patients may begin with weekly outpatient therapy and transition to the intensive day program.
Intensive Inpatient Program (2-3 weeks)
This program is recommended for children with severe feeding difficulties (feeding tube dependence, malnutrition, total food refusal, etc.) who may have higher medical needs or a need for close monitoring. It is required that the patient is thoroughly evaluated by a physician to rule out medical problems related to the feeding difficulties. A recommendation for an inpatient stay would be for patients who are ready for tube wearing or have tried outpatient therapy with little success. This program takes place at our Children's Specialty Hospital.
Intensive Day Program (2-8 weeks)
This program is recommended for patients not needing around the clock medical attention; however, feeding difficulties are severe enough to warrant high-frequency therapy. Speech and occupational therapy sessions will take place three to four times a day, five days per week.
Our dietician on staff will be available to monitor and consult on dietary components and assist with tube wearing. A primary caregiver must be present throughout the day and is required to attend some of the therapy sessions. This program takes place in the Fisher-Coon unit of our Specialty Hospital.
Interested in Learning More?
Learn how we can help your child be as independent as possible by calling 605-444-9700. Or, fill out a short form with your information and we'll be in touch with you shortly.
Contact Us