We're excited for another great auction!
Thank you for helping us get ready for the 2019 Hamster Auction - we are looking forward to another great year! If there is anything we can do to help you with your auction solicitations, please call the Foundation Office at (605) 444-9800.

Two easy ways to complete the Auction Form:
Download an Interactive PDF
Forms that have been downloaded and completed can be returned via email to Giving@LifeScapeSD.org, or faxed to (605) 444-9801.
Shipping address for items being sent to the auction: Spearfish Holiday Inn Attn: Angie, 305 North 27th Street, Spearfish, SD 57783.



It's All For The Kids!
Hamsters USA raise $282,00 for special kids at LifeScape Children's Care in Rapid City, South Dakota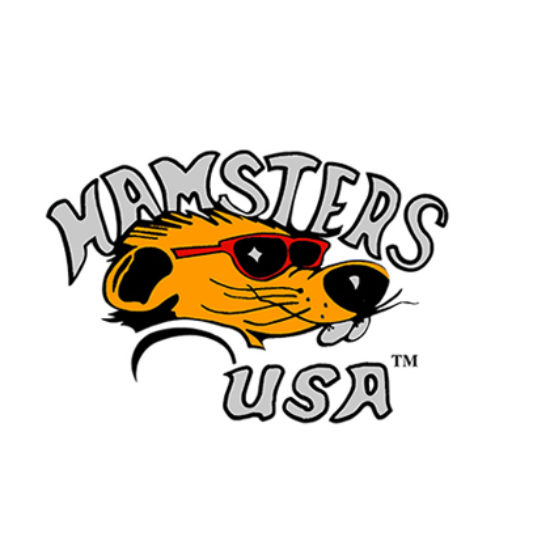 Hamsters USA, the international motorcycle group with big hearts, rolled into western South Dakota to make an impact for kids with disabilities… AGAIN! These great guys came together throughout the year to raise funds for LifeScape Children's Care of Rapid City culminating near $282,000, all staying local to support children with disabilities in Western SD!
Hamsters USA has raised and donated funds at their annual meeting for the last 13 years, with a deep desire to give back to the greater Black Hills community, which many Hamsters consider their second home. This year's event brings their cumulative total for 13 years to over $3 million in total dollars raised for LifeScape Children's Care in Rapid City. Their gifts help provide services to children in their Black Hills area homes and communities, delivered by LifeScape Children's Care personnel who drive over 10,000 miles a month to provide services. Their kind works and big hearts are exactly why LifeScape nominated this amazing group of gentlemen to the Motorcycle Hall of Fame, to which they will be inducted this week, Wednesday, August 8. Additionally, in recognition of this group's incredible spirit, longstanding commitment to the motorcycle community, and especially for their dedication to the care of children in need, the entire group of Hamsters USA was presented with the 2018 Chrome Heart Award. (See below photo of Jessica Wells, President of the LifeScape Foundation, and the Slaughter Family – Dwain, Gayla, and Michelet – presenting the Chrome Heart Award to Grady Pfeiffer and the Hamster founders who were present – Donnie Smith, Barry Clooney, Ed Kerr, Dave Perewitz, and Arlin Fatland.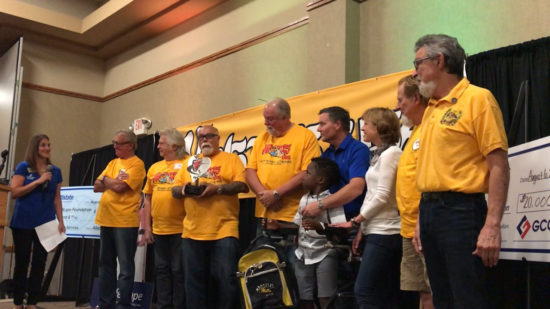 Michelet Slaughter, a nine-year-old from Rapid City, SD, and his family, spoke at this year's event. Michelet, a young man whose smile lights up a room, born in Haiti with hydrocephalus, causing his head to be so heavy, he couldn't lift it or roll over. His mother died when he was just a few months old, and his grandfather was unable to care for him, though he loved him very much. When Gayla Slaughter met him in his orphanage, she knew instantly she wanted to help, even adopt him, if that was an option. It took four years, and with the help of LifeScape, she was able to bring him back to Rapid City. His first surgery happened immediately upon arrival, and since that time, he's had three more. Gayla credits LifeScape for his amazing progress – when he first came to his new home, he had never even stood, but can now walk with a gait trainer he received through LifeScape! He's currently working on learning to walk with crutches, which will open up a whole new accessible world. Gayla and Dwain are so proud to be his parents, and they have given him the miracle he needed.
The Slaughters are proud to be ambassadors for LifeScape at the Hamsters' event this year, thanking them for their fundraising efforts that directly impact their family.
LifeScape's mission is to empower children with disabilities to lead fulfilling lives. Michelet and his family feel that LifeScape has truly done that for them, and they are so grateful to LifeScape and to the donors, like the Hamsters, who make the strides and miracles they've experienced possible.

Check out the video from the 2017 event, honoring James Habeck and his family - to put a smile on James' face, all it takes is to sing "The Itsy Bitsy Spider."