Our Mission, Vision and Values
Mission
Empowering people to live their best lives.
Vision
LifeScape will be an innovative organization, providing exceptional services and creative solutions for people with varied needs and complex care across their life span. Through collaborative partnerships, LifeScape will become a destination for research, and the development, implementation, and training of technology-based solutions to improve the lives of people we support.

Our Values
Integrity
Compassion
Respect
Safety & Well-being
Fiscal Responsibility
Excellence
Accountability
The LifeScape Way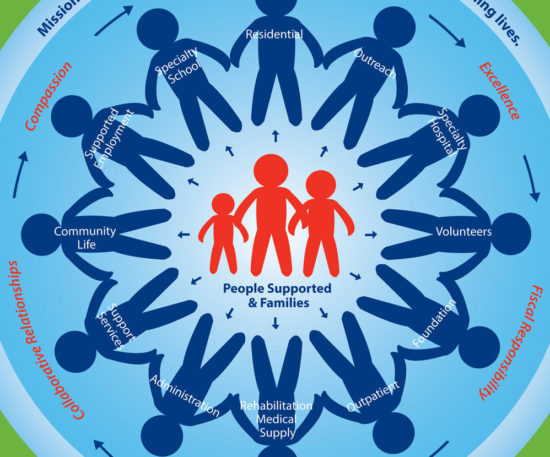 Our organizational culture, called The LifeScape Way, is based on our vision that all people are valued and respected. The people we support and their families are at the very center of all that we do—based on their wants and needs. We've created a graphic to illustrate this—it's used in training new employees and in meetings with staff, board members, families and colleagues. It's a reminder that we each play an equal role in ensuring that we support people well. We have to do it together, and if any one of us is off—the whole "wheel" is off. We celebrate together, and we have each other's backs. No one job is more important than another. We have different roles and titles, and they are each important. But, without us collectively doing our work well, we won't operate smoothly. Everything we do is to positively impact our mission, to achieve our vision and to live our organizational values.