LifeScape formed in mid-2014 when Children's Care Hospital & School and South Dakota Achieve joined together. We are an independent, non-profit organization, serving adults and children in Sioux Falls, South Dakota. Our center in Rapid City provides therapy and psychological services for children on an outpatient and outreach basis.
LifeScape – for the landscape of life
The combined expertise of Children's Care in serving children, and South Dakota Achieve in supporting adults, makes us unique in the region. We support people throughout their lives.
Our Mission, Vision, and Values
Mission
Empowering people to live their best life.
Vision
LifeScape will be an innovative organization, providing exceptional services and creative solutions for people with varied needs and complex care across their life span. Through collaborative partnerships, LifeScape will become a destination for research, and the development, implementation, and training of technology-based solutions to improve the lives of people we support.

Our Values
Integrity

Compassion
Respect
Safety & Well-being

Fiscal Responsibility

Excellence
Accountability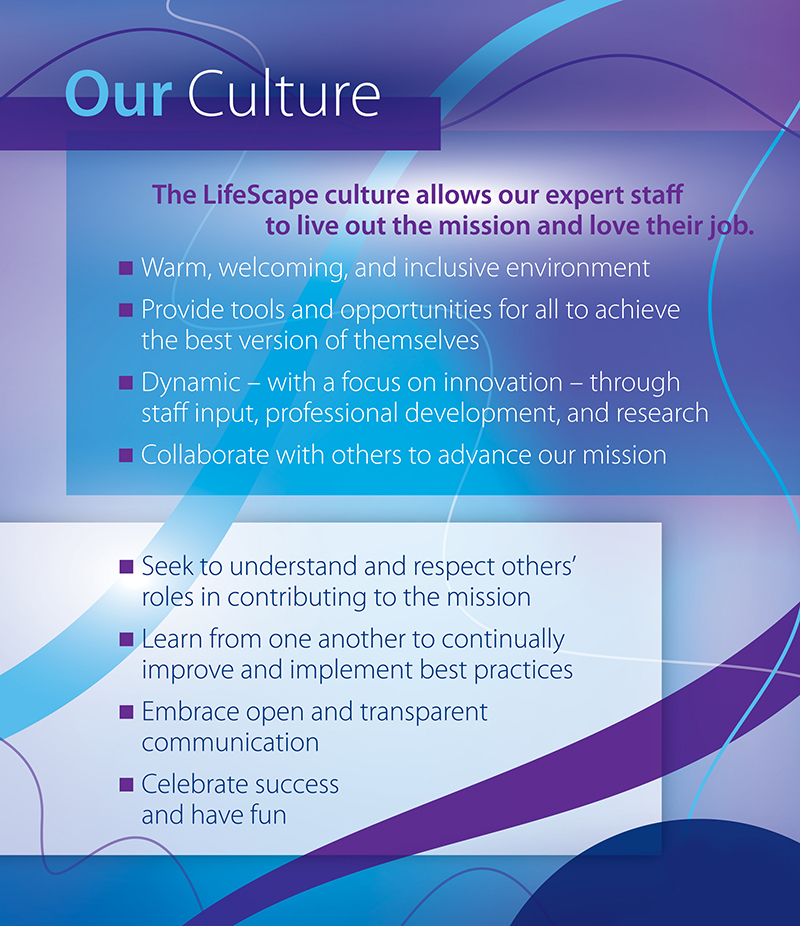 RISE Custom Solutions
Our subsidiary, RISE Custom Solutions, provides orthotic (bracing and splints) and prosthetic (artificial limbs) services, as well as vending, customization, and repair of wheelchairs and other mobility equipment. RISE Custom Solutions serves patients of all ages, and is housed at our outpatient centers in both Sioux Falls and Rapid City.
Click Here to Learn More
2022 Community Health Needs Assessment
2019 Community Health Needs Assessment
2016 Community Health Needs Assessment
2013 Community Health Needs Assessment