Winner Community to host 52nd Annual Rodeo to Benefit Children's Services at LifeScape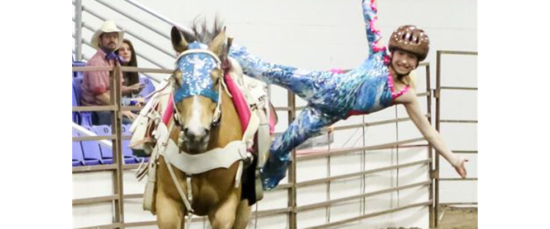 The 52nd annual Winner Elks Rodeo benefit for children's outreach services at LifeScape is Friday, July 23 through Sunday, July 25. The competition starts at 7:30 CDT each night—Friday through Sunday—at the Winner Fairgrounds. This event was named the 2020 SDRA (South Dakota Rodeo Association) Reserve Rodeo of The Year!
Contestants will compete in all the standard competitions: bareback riding, saddle bronc, tie-down roping, barrel racing, ranch bronc riding, and of course—bull riding. Alan Odden of Miller returns as the announcer.
Besides great rodeo action, there's more top-notch entertainment! Donnie Landis, PRCA rodeo clown from Gooding, Idaho, will entertain the crowd all three nights with his family-oriented humor and great clown acts. Donnie is a two-time Wrangler National Finals cowboy clown/entertainer. Also new this year is "Crazy Cowgirl Trick Riding" with 13-year-old Candice Aamont of DeSmet, SD.
Rodeo stock is provided this year (and every year since 1969) by the award-winning Hollenbeck Rodeo Company of Winner, recognized in the Midwest for decades with top rodeo stock honors.
The BPO Does lunch stand will have delicious grilled hamburgers and hot dogs for sale.
Admission at the gate is $12; advance tickets are $10 each at the Winner Elks Club, BankWest, and Zip Trip. Kids 10 and under attend for free.
All profits go to LifeScape's children's outreach programs in Rapid City and Sioux Falls, which provides physical therapy, speech therapy, and occupational therapy to rural South Dakota children in their own homes, daycare centers, and schools.
The rodeo began in 1969, under the leadership of four Winner Elks members—Bill Dillon, Vince Hollenbeck, Dick Kazda, and Harold Jans. LifeScape, (then Crippled Children's Hospital & School) had a traveling rehab unit that visited communities across the state providing clinics for children with physical disabilities. In Winner, the clinics were held at the Elks Lodge. The four men were touched by the challenges of the children and their families and decided to start a fundraising rodeo to help out. The event has been held each year since, raising over $100,000 for the kids.
The rodeo is sanctioned by South Dakota Rodeo Association, Mid-States Rodeo Association, Northwest Ranch Cowboys Association, and the Nebraska State Rodeo Association.
LifeScape is a South Dakota-based non-profit organization serving children and adults, statewide and beyond. With centers in Sioux Falls, Rapid City and Sioux City, it provides healthcare, educational, and residential services to 4,000-plus people each year.