Why we Walk 'n' Roll: Sammy's Legacy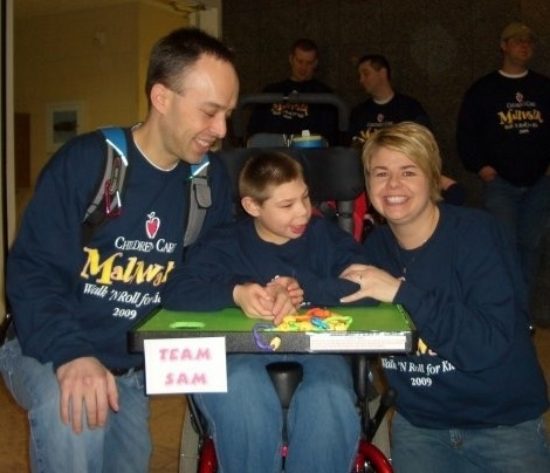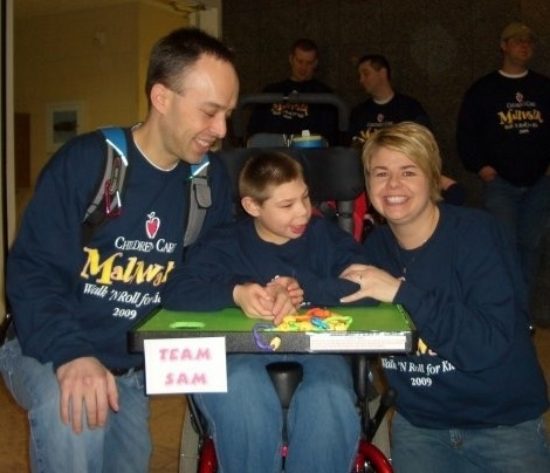 Sammy Horstmeyer lived only eight short years, but he helped more people in his lifetime than many who live to be ten TIMES eight. In fact, he's still impacting others, more than seven years after his death.
Born November 16, 2001, Sammy had disabilities that gave him only a 5% chance of survival. Doctors told his parents, Jeff and Erin, to just take him home and love him. That they did, and Sammy magnified that love, returning it many times over.
Sammy didn't speak, and he couldn't see or walk. But he could listen, and he loved music and the sound of the human voice—especially his parents' voices—reading to him, singing to him, talking to him. "When a child needs you like that—it's a love you can't explain," says Erin. "We used to say, 'Why us?' Not, 'Why did we have this child with this disability,' but 'Why did God give us this amazing child, who is just pure love and joy to our family?' Sammy brought a lot of people closer to God—because he was just love."Erin heard about Mall Walk when Sam was about two, and went by herself to check it out. There she saw a joyful gathering of families, bonded by kids with different kinds of needs than most. The next year, 2005, the Horstmeyers and their immediate families established Team Sammy. Erin and her mom and mother-in-law joined the Ambassadors, hosts of MallWalk, and they haven't missed the annual fundraiser since.
"MallWalk is great because anyone can participate—no matter what your income level is or what the needs of your child are," says Erin. "Sammy needed us around the clock, so we weren't able to go to gala fundraisers, but we could bring him along to MallWalk. As we grew, extended family got involved. It got to be a time we could get together, so it became a social thing, too. The camaraderie with the people you meet and the bonds you make—it was something we looked forward to every year."
Sammy needed leg braces, as well as special equipment, which he got through LifeScape (then Children's Care Hospital & School) and affiliate RISE Custom Solutions. With money raised mostly through MallWalk, the Ambassadors purchase highly specialized equipment for patients to trial. Like other families, the Horstmeyers were grateful to be able to try out the strollers, wheelchairs, walkers, and standers before buying them. Later, Sammy was hospitalized in LifeScape's Specialty Hospital, where he recovered from an illness with 24-hour nursing care. In the summer of 2007, he started attending the LifeScape Specialty School. "There are people I'll never forget," says Erin. "One day when I dropped Sammy off for school, May, one of the education aids, said, 'You take a break. I'm going to love your little boy like he's mine today.' I can't explain the difference that made in my life."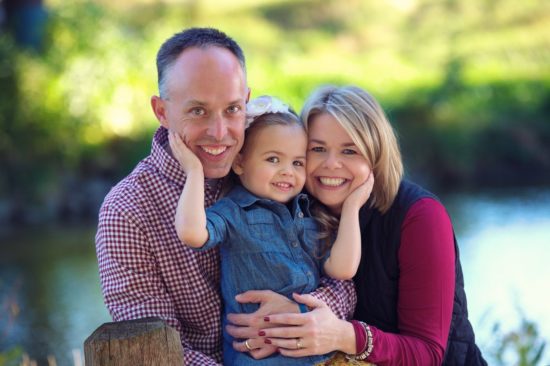 In 2009, Erin became MallWalk chairperson, and the team's name changed. Jeff liked to call Sammy "the Greatest Of All Time sons"--G-O-A-T. Since Sammy smiled almost constantly, his nickname—and then the team name—became the Smiley GOATS. They went on to be top fundraisers year after year. Jeff raised funds separately, besides the funds raised by the team. His employer became a sponsor. They raised $8,000 in 2013, and in 2014 they hit $10,000. "Winning wasn't important to us," says Erin. "Raising more money to fund more things on the Wish List was what we were passionate about."
"Through Sammy, we saw how people benefited from MallWalk. The equipment the Ambassadors provide is expensive. I loved seeing scholarships provided for aquatics, because Sammy loved being in the water. The bladder scanner is there for any child in the community with incontinence problems. Then there's the Center for the Arts—look how far that's gone!"
Erin stayed on as MallWalk chair after Sammy's death in July 2010—for a total of seven years. It was a way to stay connected to him, and to the people that had become like family.
Memorial gifts honoring Sammy helped more people at LifeScape, and gifts in his memory have continued each year. When Erin's father, John Bennett passed away in April 2017, memorials came to LifeScape, per his request. Erin and family chose equipment for the specialty hospital--in honor of her dad and son-- to purchase with those funds. In all, over $60,000 has been raised to help support people at LifeScape because of Sammy---quite a legacy for an eight-year-old.
On Christmas Eve 2014, the Horstmeyers welcomed a new baby girl, Natalie. "We talk about Sam all the time," says Erin. "We'll look at photos, and she'll say, 'That's my brother!' She knows he used a wheelchair because he couldn't walk."
Now a full-time mom to a three-year-old, Erin is still involved with MallWalk, but a bit less so. "I know there'll be a time when I can be more involved again—and hopefully Natalie can, too. I hope MallWalk goes on for a long time."