What inspired Becky Schmitz to choose a career in physical therapy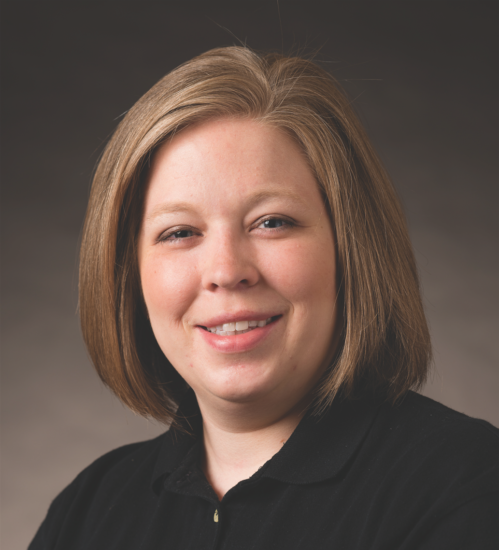 I became interested in physical therapy when I was a kid. My youngest sister was born with cerebral palsy when I was 7 years old. For the first three years of her life she received birth-to-three therapy services in our home and daycare, so that meant multiple times a week I saw physical and occupational therapists working with her, teaching her to roll, sit, and stand. The therapists she had worked hard to incorporate my other siblings and me into the therapy sessions and teach us how to help her. As I went into high school and started to really think about what I wanted for a career, I kept thinking about the therapists who helped our family and their love and passion for their jobs. I wanted the same thing in whatever career I choose for myself. It was easy to see physical therapy would give me that.
When getting ready to graduate from Creighton with my Doctorate of Physical Therapy 12 years ago, my then fiancé and I were looking to move to Sioux Falls. In searching for PT jobs, I saw an opening at LifeScape and applied. After a phone interview, I came to tour and loved the passion and joy I saw in all the therapists I met. I have been loving my job ever since.
I am currently a physical therapist in the LifeScape Specialty Hospital Unit, Fisher-Coon. In my role, I work with pediatric patients who have complex medical needs and are receiving acute in-patient rehabilitation. I spend my days teaching babies who have recently left the NICU, but still can't go home, how to be babies—by helping them learn to roll, sit, stand, and walk. I also help children who have undergone traumatic events, such as car accidents, re-learn life skills like walking and running. My favorite part of my job is seeing a child's and families' joy at first steps, whether the first time ever, or the first time since a major medical trauma. There is no greater joy than helping families through these challenging times in life and making it a little easier for them. Plus, whenever I need a snuggle, there is a unit full of babies and kids who just want to be held and read to. Who wouldn't love that?
I keep busy chasing my four kids, Ella (9), Olivia (6), Isaac (4) and Aaron (4 months) as well as spending time with my husband, Tony. Between church activities, school and extra-curricular activities, we are always on the go. When I have time, I love to bake, play piano and read. I continue to help my sister (Liz, 28) by sharing guardianship of her with my dad. She lives a couple of hours away, but I love to FaceTime her and visit when I can. My medical background and knowledge have helped me be a better advocate for her, and helped guide our family in decision making for her as she continues her journey.
-Rebeca Schmitz, PT, DPT