"We don't give up easily." Arlen Klämm is a master of complex rehab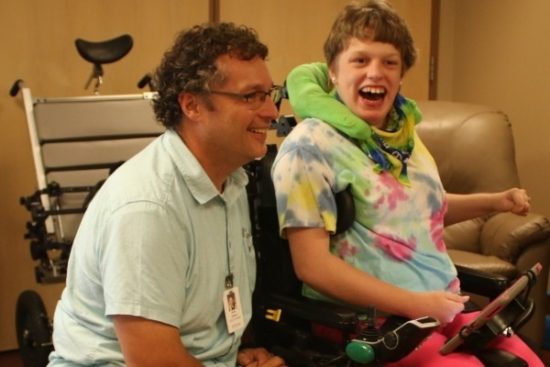 Arlen Klämm, OTR/L, ATP/SMS, is an occupational therapist and the Assistive Technology Coordinator for LifeScape Rehabilitation Center in Sioux Falls. He is also a RESNA-certified Assistive Technology Professional and a Seating and Mobility Specialist. (RESNA stands for the Rehabilitation Engineering and Assistive Technology Society of North America.)
Arlen provides evaluations to help people replace or compensate for skills they're lacking or have lost due to illness or injury. "Much of my work involves providing evaluations to help people decide what would be the best way for them to function from a wheelchair," says Arlen. "I also assess ways for people to access technology devices used to communicate, control other devices, and to use computers and other technology. When no technology is available to meet a person's needs, I also design and build devices for specific purposes.
We had Arlen answer a few questions about his work:
How did you become interested in Assistive Tech/Complex Rehab?
When I was an OT student interning at LifeScape, another occupational therapist involved in wheelchair seating suggested a student project for me. It involved building a mobile play area for children with visual impairments. The device could be moved from classroom to classroom and included various switches imbedded in the walls of the play area that activated sounds, lights, vibration, and other interactive sensory devices. Eventually that therapist and her husband moved, and I moved into providing seating and mobility evaluations and assistive technology services.
Why LifeScape for mobility needs?
We have a very well-trained and experienced staff of occupational and physical therapists along with experienced staff from RISE Custom Solutions to meet almost every mobility need. We also have more therapists certified as seating and mobility specialists in one place than any other location in the United States.
What is one of your best professional accomplishments?
I have many good memories of successful outcomes for people who have been served in our assistive technology programs. I enjoy coming up with new devices to meet unique needs. The memories that stick out most are the very young children who have learned to drive power wheelchairs and continue to have successes using their mobility into adulthood.
What is one thing you would like everyone to know about LifeScape Assistive Tech Services?
We truly can solve almost any assistive technology problem if we have enough time and funding. We don't give up easily.