Volunteer Coordinator Becky Sluiter creates joyful connections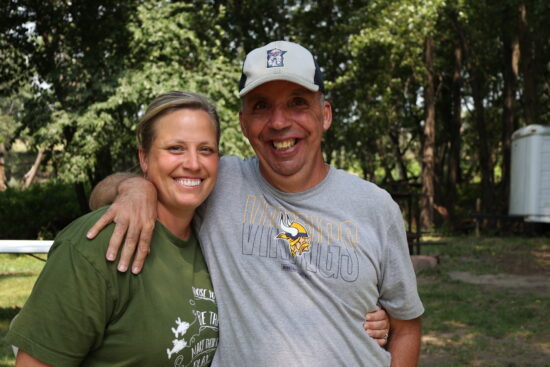 For many people, volunteering at LifeScape is the first encounter they have with our organization. Fortunately, we have the most warm-hearted, enthusiastic, welcoming person imaginable in that role. Becky Sluiter has been Volunteer Coordinator with LifeScape since 1999. In that time, she has helped thousands of people – in groups and as individual volunteers – give their time and talents to bring joy to kids and adults supported by LifeScape.
Becky is greatly appreciated by staff and volunteers alike. "I had the privilege to work alongside of Becky for many years and I cannot say enough good about the influence she has been to me," says volunteer and former staff member Jerry Klein of Dell Rapids.
"It's very difficult to sum up the importance of Becky Sluiter in a short paragraph," says Director of Development Kim Haiar. "Becky is the absolute perfect person for her role. She is compassionate, organized, engaging, and dedicated. She embodies every aspect of LifeScape's mission, vision, and values – she knows almost everyone that is supported at LifeScape, working diligently to find compatible friends from the community to buddy up with those needing extra friendships. The relationships she forms are meaningful for everyone involved, whether a child or adult supported at LifeScape, a volunteer, a corporate entity, church groups and beyond. She takes pride in her work, which is truly her calling. In addition to working with individuals and groups within our home and school settings for 20+ years, she got creative during the pandemic to keep relationships intact and to provide for groups' continued interactions with those we support, even if it was via Zoom, with activities like Virtual Bingo and Laughter Yoga. And Becky has been integral to folks – both volunteers and attendees - enjoying the Trent River Camp for more than 18 years. LifeScape is very blessed to have Becky in her role."
Becky's job is to recruit community volunteers (groups or individuals) and match their skills and talents with a LifeScape need. Volunteers of all ages can share their time and talents for a specific one-time project or to be matched as a long-term mentor with a child or adult supported by LifeScape with similar interests. Volunteers 16 and under are welcomed with an adult companion. Many high school students volunteer as part of their career exploration and get hands-on learning from LifeScape's interdisciplinary teams. Projects such as sewing, baking treats, craft prep, wood working, and fixing toys allow people to volunteer without leaving their homes.
Becky receives winter clothing and other goods donated to LifeScape and gets them to those that need them most. She helps ensure all children and adults supported by LifeScape—who might otherwise not receive a Christmas Gift—have gifts under their tree to feel loved during the holidays.
Program Coordinator JoAnn Carlson says Becky makes her job look easy—and it isn't. "She has always been that person - from the time that she was in direct care to being our librarian and then supervising others with volunteer projects," says JoAnn. "She takes every task and does it well and is supportive of everyone who is in involved. She is also one of the most articulate people I have met. She has the right words for every situation, and this was extremely helpful when Becky was working in Adult Services and providing education and resources through the Grief Support Team when there was a death. She always had the right words to help others. Her million-dollar smiles make everyone feel special."
There are many ways to volunteer with LifeScape. To get involved, fill out the Volunteer Interest Form or contact Becky at Rebecca.Sluiter@LifeScapeSD.org.