Unlocking Worlds: The Miracle of Assistive Technology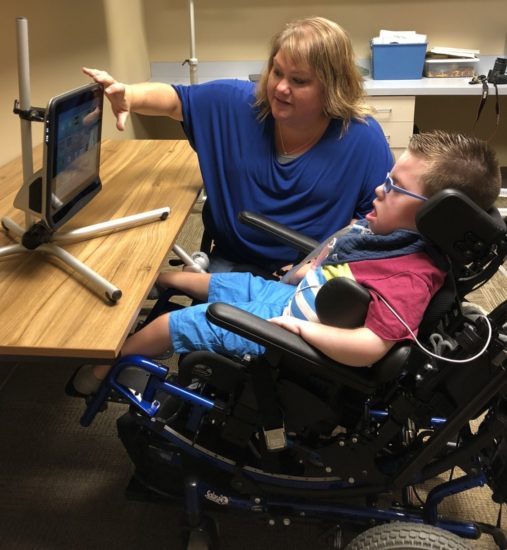 Six-year-old Caleb Chase of Sioux Falls is a movie critic. Pixar films are superior, in his opinion, and "A Bug's Life" is his current favorite. He is also medically fragile and unable to move most parts of his body, due to the neuromuscular disorder and congenital joint contracture he was born with. He cannot move his mouth, swallow, or breathe on his own. His identical twin brother, Isaac, died three years ago from complications of the same disorders.
"Cognitively, his brain is completely fine, and he has normal emotions," says Caleb's mom, Barbara. "It's frustrating because he can't tell us what he wants or needs." Caleb has had pretty much two ways of communicating: by nodding or shaking his head to questions, or by kicking his feet. "Caleb doesn't have any independence at all at this point," she says. "All he has are his own thoughts."
That began to change a few weeks ago when he was introduced to eye gaze technology by speech-language pathologists at LifeScape Rehabilitation Center. His computerized Tobii Dynavox device is a form of assistive technology that precisely selects where he is looking. By looking at symbols, the speech-generating function allows him to "speak." Barbara and her husband Ryan are amazed and excited by how fast he's learning.
"We asked him to pick out animals, and he picked the right animal every time," says Barbara. "There's an incredible wealth of knowledge locked in there." Caleb is learning to read, and is starting to communicate directly with his parents, including choosing two symbols to say, "I love Mom."
Caleb's parents are anxious to get to know their son better through his new ability to communicate. The eye gaze system could someday allow Caleb to drive his wheelchair. Any voluntary movement can be harnessed by assistive technology professionals (LifeScape has five on staff) to run adapted equipment and appliances. In the meantime, Caleb's world is opening, and he's excited to become a big brother in September.
Ryan and Barbara are grateful for LifeScape's expertise and support. "One thing we've noticed in the disability world is that it doesn't come with a handbook," says Barbara. "Having advocacy and people letting you know what is possible, plus help with the paperwork and insurance is so helpful. We're thankful we don't have to do this alone."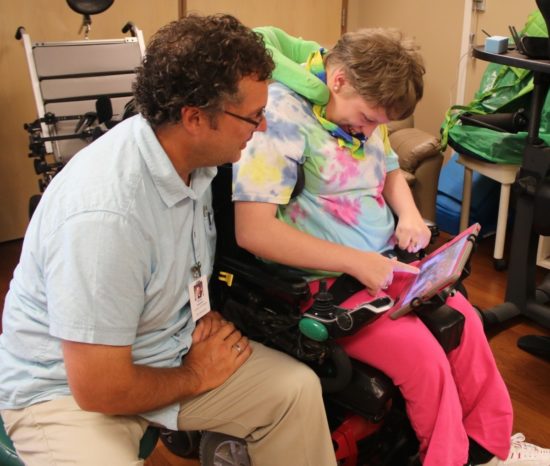 Kelsey Keegan of Garretson has mastered assistive technology. Born with cerebral palsy and hydrocephalus, 18-year-old Kelsey uses a power chair to get around.
"When she was about four, we started working with her to drive her power chair with single switches on her lap tray," says Arlen Klämm, Occupational Therapist and Assistive Technology Coordinator at LifeScape. "She has progressed to a regular joystick and now drives her power chair easily." Kelsey came to LifeScape's first Power Mobility Camp and caught on fast. "I like my chair," says Kelsey through her communication device. "It's very important to me."
Where Kelsey really shines, though, is with another form of assistive technology--Augmentative and Alternative Communication (AAC).
"She is the most proficient user of communication devices I've ever seen," says Arlen. "She likes to talk and she knows how to use it very well, speaking in full sentences." She now uses an iPad with communication software called Proloquo2go.
She wore out her first Dynavox communication device, says her grandmother, Beth Braa. "It's her voice. Once she got it, she started talking like crazy."
Kelsey is also proficient with online use. She does shopping research on her iPad, and recently found tickets for a musical she wanted to attend.
After her graduation with the Garretson's class of 2019, Kelsey plans to attend LifeScape's Pathways to Life. The program teaches life skills to students until age 21.
Beth says she can't imagine Kelsey's life without assistive technology and the expert help LifeScape has offered over the years. "We feel very fortunate to be so close to these services," says Beth. "LifeScape is our lifesaver."