Two Generations, Providing for the Future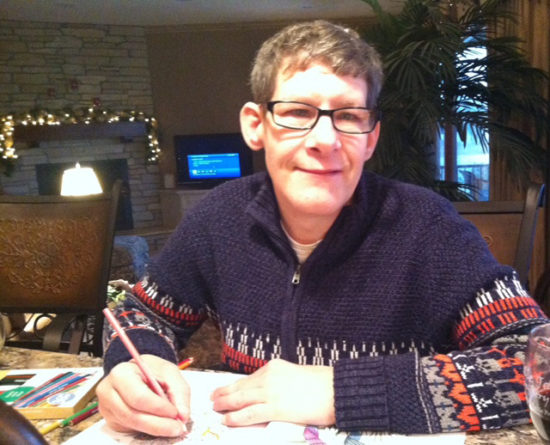 Growing up in Beresford in the 1960's and 70's, Todd Anderson was known as the kid with the natural talent for piano and organ, and for the expert volleyball serve he developed in middle school. Born with developmental delays and an intellectual disability, he was not known as a kid who was picked on. His older sister, Tami Hayzlett, made sure of that. "It really was a good experience in Beresford," says Tami. "We were surrounded by people who were kind to him."
Todd began receiving services with LifeScape after high school graduation. "He's been with LifeScape for 35 years, so they are really his family," says Todd's parents, Robert and Linda Anderson. "They have done so much for him. He's gone so far above and beyond what we ever thought he would."
Before Todd's life came into focus at LifeScape, however, the organization—and Todd himself--began shaping Tami's career path. As an Augustana College sophomore majoring in elementary education and music, Tami took a part-time job at LifeScape, which was then Sioux Vocational Services. "I was used to being part of Todd's world—comfortable with people with disabilities," she says. While working in the residential program, she added special education as a third college major. After graduation she continued working at LifeScape as a special education teacher, staying for a total of ten years. She loved her work providing vocational and independent living instruction for adults with disabilities.
Inspired by their experiences, Tami and her husband Jeff—as well as the Andersons—have included LifeScape in their estate plans. "In my work at LifeScape, I would see the funding sources go up and down," says Tami. "Including LifeScape in our will was a small way to ensure that services continue for Todd and others." For the Andersons, it was a way to give back to the organization that has provided a full life for their son. "We never thought he'd be able to live away from home--and what kind of life do you have if you're sitting home with your parents?" says Linda. "He's safe and happy, and he keeps acquiring skills. The staff really go out of their way to help him enjoy the things that are meaningful to him. We are thankful for LifeScape every day."
Joy Through Music

During the recent holiday season at LifeScape's Children's Services location, Todd Anderson could often be found playing Christmas music on a keyboard in the lobby. As children arrived for school in the morning, or visitors came for special events, they were greeted with live, festive tunes by a man drawn to music from childhood.

"Todd plays by ear," says his mother, Linda Anderson. "When he was little, we would come home from church and he wouldn't even take off his coat—he'd go straight to the piano and play whatever he'd heard at church that day."

His grandma, Judy Anderson, was the church organist, so she would sit down and play with him. Later he took lessons from his sister Tami's piano teacher.

Todd has a piano in the home where he lives with seven other adults, all supported by LifeScape. "It makes me feel good to play, because it makes other people feel good to listen," says Todd.