"They never give up hope." Special braces help Halle stand and walk again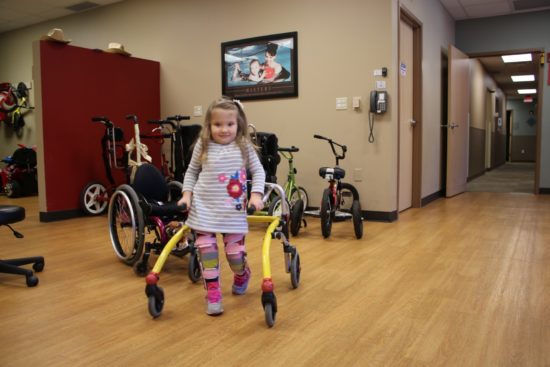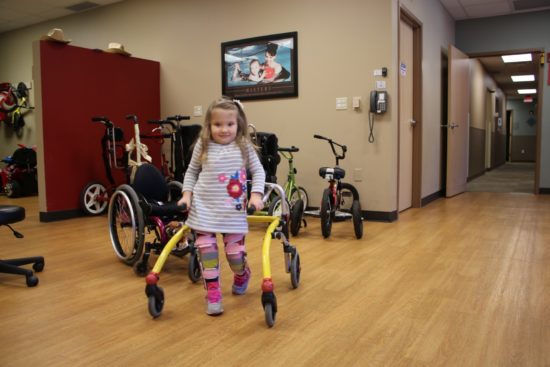 When Halle Bauman was born four-and-a-half years ago with spina bifida, her mom, Christa, feels she was maybe a little more prepared than some parents might be. She had earned a degree in social work to help others, and spent her early career working with people with disabilities. "I'm comfortable around people with disabilities, and I kind of knew how things worked to help Halle," she says.
At eight months, Halle began getting physical therapy at LifeScape, to build her skills and help her be as independent as possible. Her therapists, Pam Dahm and Shawn Frewaldt, describe her as super smart and strong-willed—"which will take her far," says Pam. "She has excellent play skills, so when we find the right therapy activity, she really gives it her all."
Halle uses a wheelchair most of the time for mobility, but had been working on standing and using a walker in her therapy. She had had previous surgeries on her foot, but it still was turning in too much for her to progress any further. The surgery was in April, and a series of complications and subsequent surgeries left her immobilized and unable to do therapies for four months. "With spina bifida, the muscles are already compromised, and because she was in a cast all that time, the muscles had really atrophied," says Christa. She and her husband Steve wondered if she would ever regain the function she had. When she was well enough, she returned to therapy at LifeScape Rehabilitation Center. Since August, her therapists are happy to say she's back to where she was last spring, and has even progressed a little farther. They credit much of her quick progress to a special brace prescribed by orthotist Mark Wegleitner. (Orthotists fashion braces and splints for arms, legs, trunk, and for cranial remolding helmets.)
"Bob Johansen (another orthotist on staff) and I were looking at it, and we thought a KAFO (knee ankle foot orthosis) would help her stand and walk again," says Mark. "It's like an AFO (ankle foot orthosis), but there's a knee section that pops on and off. It re-sets the center of gravity and provides extra stability at her knees, so she is able to stand and take steps again with her walker. "She's getting her stamina back," says Pam. "She is going longer distances without us providing help. An orthotist with less experience might not have come up with that solution," she says.
Christa said she was concerned because the braces are so much bigger than the ones Halle has used in the past. "They are actually quite cool, though—easy to get on and off, and she doesn't mind wearing them," she says. "We didn't know what was going to happen with them for sure, but they have really helped her get back on track. Plus, they're cute. Halle got to pick out the pattern on them—pink hearts. It makes a big difference to Halle if she can pick out the colors and designs of her equipment."
She is wearing them on both legs now, and the goal is to drop one of them later as she gains strength and skill. She is standing and practicing with crutches now, too. The braces give her a base of support.
"I can't say enough good about the staff there," says Christa. "They are so good at looking at the individual person. They really use innovative thinking to solve problems for people. Plus, they are so patient and optimistic-- they never give up hope. As a parent, that's so important to me."