Thanks to a loving home and great rehab, Phoenyx is thriving.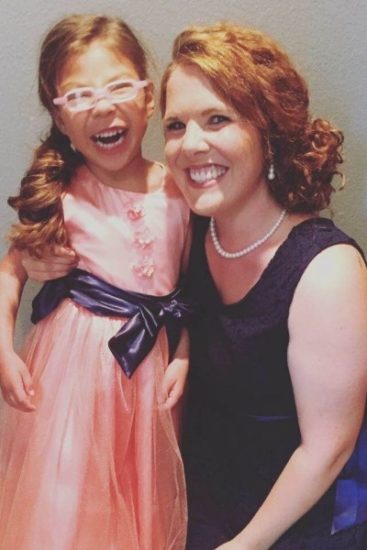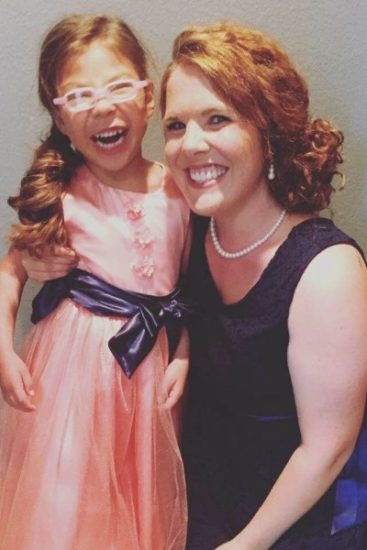 Children in any of LifeScape's programs always fare better with good family support, but what if there is no family in the picture? Five-year-old Phoenyx came to LifeScape's residential program at age two after a traumatic brain injury as an infant. "She received medical and education-based speech, physical, and occupational therapies for at least six hours a week," says Brenna Christensen, Therapy Manager. "That gave her a really good start." Heather Hewitt provided speech therapy and feeding therapy, Trish Young and Alex Schema provided occupational therapy, and Sherry Merkwan and Stacey Tritz provided Phoenyx's physical therapy.
She attended LifeScape's Specialty School, where her teacher Kathy Fitch says she was "continuously motivated to learn," with the lessons reinforced in the residential setting. "She would be the first one to raise her hand to pick a song, and I can still hear her say, 'Phoenyx do it!'," says Kathy. Phoenyx appeared in two of the LifeScape Center for the Arts theatrical productions. Her favorite times were when her former foster parents, Mindy and Woody Houser (who remain very involved in her life), came to visit. Phoenyx was well cared for, was surrounded by rehab experts, and was loved by those who cared for her, but what she was missing was a mother's love and a family life.
That all changed one year ago, when a former LifeScape Direct Support Professional, Emily Bartscher, visited and heard that Phoenyx was available for adoption. Now a special education teacher in Harrisburg, Emily went home and wondered if she could be Phoenyx's mom. "I couldn't quit thinking about it," says Emily. In October 2015, she talked to her family (they were shocked--she's single) and to the staff at LifeScape about getting to know Phoenyx better. She began regular visits, and brought her to her family's home in Brandon, SD for Christmas. By January, she was sure she wanted to adopt Phoenyx, and she was discharged to Emily's care on February 19th, 2016.
Now, says Emily, "It's like we've always been together." Phoenyx is thriving in her new life. (They are shown together above, when Phoenyx was the flower girl at a friend's wedding.) She gets therapy twice a week at LifeScape Rehabilitation Center, and seems to be racing to meet the goals her therapists set for her.
"She loves coming here for therapy, and I trust their judgement," says Emily. "It's obvious they want her to succeed as much as I do. I can ask them anything, and I know I'll get a straight answer.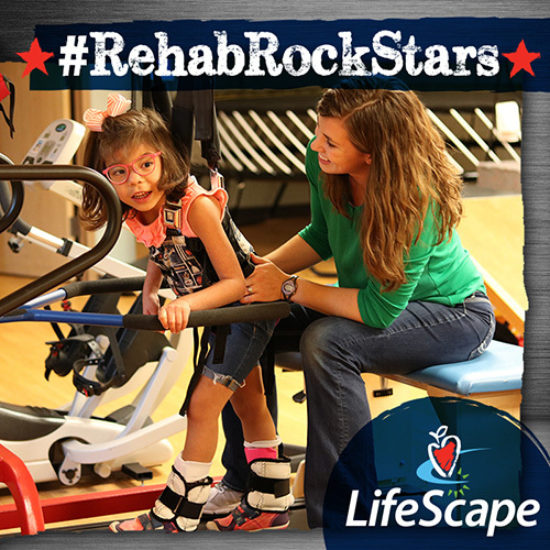 Speech-language pathologist Caitlin Abbas provides feeding therapy for Phoenyx. She has gone from pureed food to eating nearly all regular table food in just six months. Her goal now is to feed herself.
Her physical therapists, Monica Christensen and Melissa Beckstrom, have worked on increasing her core strength to sit up unassisted and to help her stand flat on her feet. She can now stand against a wall for 30 to 60 seconds at time, and uses only her gait trainer at home to get around, rather than her wheelchair. She has a goal of getting from the floor to her gait trainer—eventually—on her own.
Occupational therapist Robyn Privett is helping Phoenyx strengthen her right hand to dress and feed herself and do other self-cares—focusing now on putting on and taking off her shoes and socks.
"Communication is the biggest gain," says Emily. She talks non-stop at home and asks lots of questions. She can tell me what she had for lunch and what book she got at the library. She's right on top of things."
Emily says she appreciates how accommodating the staff is of her schedule, and how they help with Phoenyx's equipment. "When we come in for therapy, I can let them know her wheelchair or gait trainer needs tweaking, and they take care of it right away. The therapists are so helpful with tips on skill development at home, too."
Phoenyx just started Kindergarten in Sioux Falls, but she already knew how to count to 20 and spell her name. Always a social child, she has absolutley blossomed by having her very only family, with Mom Emily, an extended family, and the two family pugs, greeting them with "Hello girls!" when they get home. "Things just feel right," says Emily. LifeScape has been there for Phoenyx to provide for her needs at differnent points in her life, and will always be available as she grows. For now, a promising new life is just beginning.