Stepping Up in Uncertain Times
July 7, 2020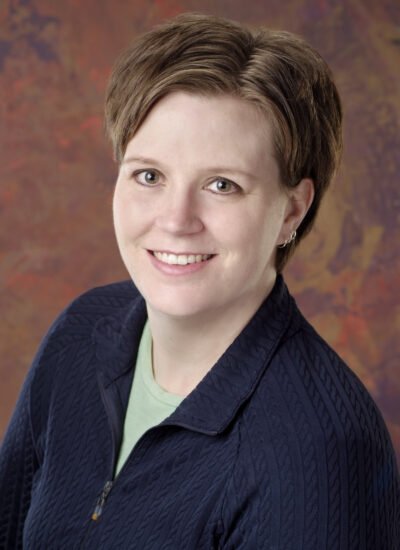 Dr. Erin Stabnow switches roles to help kids waiting for ABA Therapy
During the early outbreak of the COVID-19 pandemic, the delivery of many services and supports became very challenging and changed in a drastic way. Many staff at LifeScape stepped up for additional responsibilities, including Behavior Analyst Dr. Erin Stabnow. "I told myself I would be willing to make whatever changes were needed for LifeScape during the pandemic," says Erin.
Normally a behavior analyst for the Specialty School at LifeScape, Erin switched gears to help with the backlog of children waiting to receive Applied Behavior Analysis (ABA) therapy. For three months, she reported to work at the organization's newest outpatient location, the Autism and Child Development Center in Sioux Falls.
Starting at LifeScape in October of 2000, Erin Stabnow, Ed.D., BCBA-D, LBA, began her career as a direct support professional. Her other positions at LifeScape have included lead teaching assistant, special education teacher, education coordinator, curriculum director, and behavior analyst.
The growth in Erin's career has been supported by her ever-increasing higher education training. To best support the people she serves at LifeScape, Erin holds multiple post-graduate degrees, including most recently an Ed.D in curriculum and instruction and becoming a doctoral-level behavior analyst (BCBA-D).
From May through July, Erin joined the team of outpatient behavior analysts at the Autism and Child Development Center. There she assessed and developed the ABA programming for young people with autism and guided the team of registered behavior technicians.
"Helping out at the clinic allowed me to look at my behavior analyst role differently," says Erin. "It also provided me with an opportunity to learn from the other behavior analysts and RBTs who work in the clinic."
Within her various roles at the LifeScape Specialty School, Erin did work as a Board-Certified Behavior Analyst for 10 years, but never provided these services in an outpatient setting. She, however, had the professional experience and advanced expertise to jump into her new role, where the need was the greatest, and serve the mission of the organization, empowering people to live their best life.
At the Autism and Child Development Center, Erin added new skills to her already robust professional repertoire. In particular, she extended her skills in behavior analysis to a younger population of clients. With this new experience, she is seeing the difference in the protocol of the outpatient clinical setting. Her background in curriculum and program development prepared her for these challenges. Erin says, "The program development looks a little different than what I'm familiar with, but learning these differences has been fun. There are also documentation differences, such as session notes and graphing electronically."
Erin wanted to extend services to as many children on the ABA waiting list as possible. These are children and families who are in desperate need of professional intervention but were backlogged because of a national shortage of certified behavior analysts. When the needs of the school changed during the COVID-19 outbreak, Erin jumped in to help outpatient families. With autism spectrum disorders, early intervention is critical--children can't wait for help.
In her own definition of LifeScape's mission, Erin describes it as, "Being open and willing to help others and learn from others in all areas necessary." The LifeScape core value that means the most to Erin is "compassion." "I am passionate about my work as a behavior analyst," she says. "This change has allowed me to open opportunities I have never experienced before. My goal is to help out in whatever way I am needed, as this is a very different time in our organization."
As one of LifeScape's many versatile employees, Erin Stabnow has demonstrated what it means to live our mission. She returned to her behavior analysis role in the LifeScape Specialty School in July 2020, having helped to move several patients off the ABA waiting list.
Erin is always willing to step up to whatever challenges may arise, learning new expert skills along the way and achieving new degrees to equip her as the best professional possible. Throughout her career at LifeScape, there has only been one goal: Helping people in need and ensuring that everyone she serves has the opportunity to live their best life.