SOAR Program: Rebuilding Lives for Adults with Brain Injuries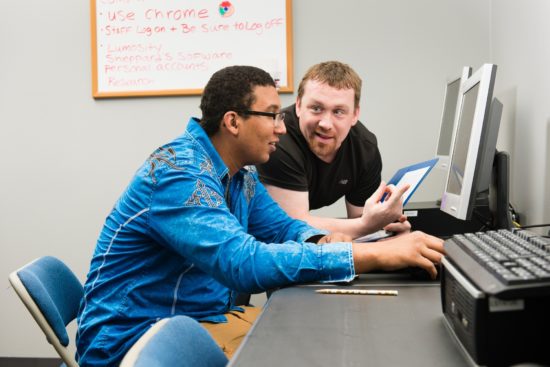 Several months after the car wreck that nearly claimed his life, James Wipf asked to return to the site of the accident. "He said, 'I think I lost my real self there.' He wanted to go back and try to find it," says his grandmother, Mary Wipf. "I drove him out there so he could see where it happened. Of course there was nothing to find, but he wasn't at a place yet in his recovery that he could understand that. It made me feel so sad. He just said, 'Grandma, I wish that accident had never happened.' He knew something was gone."
James was just 15 in June of 2004 when he and his 11-year-old sister Ruby went on a quick errand with a young relative. His cousin suggested he try driving the car. With no experience behind the wheel, he failed to look to his left when pulling onto Highway 42 near Wall Lake, west of Sioux Falls. A Dodge Ram truck t-boned the car, throwing it to the opposite side of the road. Witnesses at the nearby gas station ran to the scene to help. The others were injured, but James' life was clearly in the balance. One held James' head up so that he could breathe until the ambulance arrived. Without their quick intervention, Mary doesn't believe James would have survived long enough to be airlifted to Sanford Hospital. (She also credits the Humboldt ambulance team's careful handling for keeping James from becoming paralyzed, as he had multiple spinal fractures.)
Mary, herself a nurse, had taken James in three years earlier to help him avoid the pitfalls of growing up as one of many children in a not-so-great area of the Twin Cities. As she waited that evening for the three to come home, she knew something was very wrong. "My heart kept sinking, and when the phone rang and a relative told me there'd been an accident near Wall Lake, I knew without a shadow of a doubt who it was. I drove straight to the hospital, and sure enough, they were in the emergency room. James was about to be transported to the hospital in Minneapolis."
James was admitted to Hennepin County Medical Center, a Level 1 trauma hospital, for their expertise in the most gravely injured patients. There he clung to life, and began healing from internal injuries and multiple broken bones—including several skull and spinal fractures. There were many surgeries--to wire his jaw together, put his teeth back into place, and reset his bones--but he remained in a coma. "They told us to find a nursing home for him, and we were headed down that road--but we also believe in the power of prayer," says Mary. After a month, he began to regain consciousness and wanted to say something. He wrote a few letters on a whiteboard—deciphered as "sister." He wanted to know if Ruby was okay, and was overjoyed to discover she was there at his bedside. "He got better from that point on," says Mary.
He was discharged after another two weeks to continue his recovery in Sioux Falls at Avera McKennan Hospital. He learned to walk and talk again, and relearned the basics from grade school—the alphabet, colors, and numbers. After four or five weeks, he was discharged to outpatient care in time to return to high school for his sophomore year. In many ways, the real trouble started then.

Although James' body mended remarkably well, his brain injury affected his speech, vision, hearing, and executive functioning—including judgement, reasoning, and working memory. Schoolwork was nearly impossible. Old friendships were not the same, as James was not the same. Frustration with his new limitations led to behavioral problems. His need for social connections—combined with the poor choices that come with normal adolescence and exacerbated by his brain injury—caused him to fall in with the wrong crowd.
In the fall of 2005, James got into a fight that resulted in a second brain injury. His problems grew worse, and he spent the next eight months in various programs for troubled teens with few positive results.
That changed in August 2006 when he landed at the Turtle Creek Youth Program at the South Dakota Developmental Center in Redfield. The program, which serves youth from ages 10 through 21 with disabilities and behavioral challenges, offered the expertise James needed to put a stop to his downward spiral. "He was happy there from the moment he arrived," says Mary. She felt his life was saved again, this time by the medical, residential, and educational staff at Turtle Creek. She was also grateful he had the support and structure of the Turtle Creek program when his beloved mother, Maria, died of cancer in 2007. James graduated from high school through the Turtle Creek program in 2009, and stayed a few more months in the residential program to help him transition to the adult phase of his life. The staff recommended that James return to Sioux Falls to participate in SOAR (Support, Opportunity And Results)—the brain injury program at LifeScape.
SOAR was established in 2009 to meet the differing needs of people with brain injuries who were already being supported by LifeScape. Denise Johnson, Coordinator of Support Services, helped build the program, having previously worked with brain injury patients in Minneapolis. "The needs vary according to the part of the brain that's been injured, but the main difference is memory impairment," says Denise. "Lots of reminders need to be built in for things they need to do." A day program was created—first in classrooms at Kilian College and now in space at 49th and Louise—to help SOAR participants improve function and skills.
In February 2010, at age 21, James moved into a LifeScape-managed apartment. He set goals through his Individual Support Plan (ISP), which included getting a job and living more independently. Through LifeScape's Employment Services program, James got a custodial job at a pub—a job at which he excels. He soon moved into an independent apartment, where he now gets minimal support services from SOAR residential staff. "Goals are very individualized," says Denise. "It may include budgeting, menu planning, taking classes, learning to cook, or in James' case—taking guitar lessons. He has mastered his goal of keeping his apartment clean, and recently met another goal of going on a trip."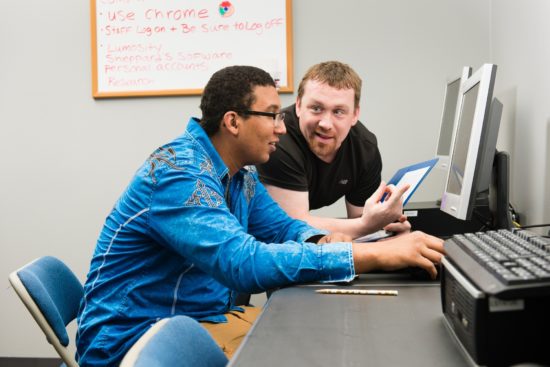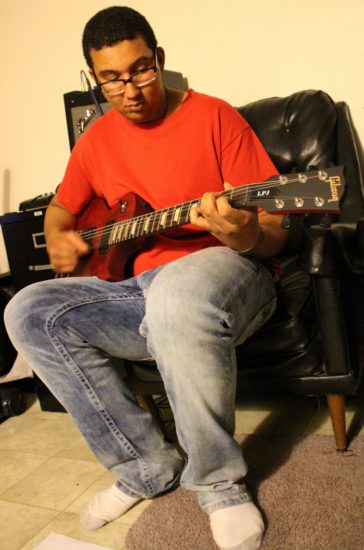 LifeScape currently provides supports for 11 people in the SOAR program, with room for one more. Three live in their own apartments, seven live in homes staffed by LifeScape, and one lives with his family. Seven are able to work, and some others have regular volunteer positions. All participate in the SOAR day program to some extent. "Another big difference with SOAR is they remember their lives before their injuries," says Denise. "They've all had a lot of loss—jobs, scholarships, marriages, independence--- we help them work through that grief."
James is up at 3:30 a.m. six days a week, and is picked up by LifeScape staff at 4:50 to get to his job. After his three-hour shift, he catches a bus ride to the SOAR Day Program. Here, James and the others work on speech and language goals, social skills, math, safety trainings, time management, Sudoko puzzles, Lumosity "brain training" games, and health and wellness lessons. They bring a lunch and wrap up for the day by 2:00 p.m. James then works out at the gym or has a guitar lesson before heading home to make supper and listen to music, enjoy a movie, or play drums or guitar. "My neighbor is a musician, too," says James. "So he never complains about the music."
Mary says she had no idea what lay ahead when she took in James as an 11-year-old, but says it's been worth all the heartache to see how he has developed now. "I can't find enough words to tell you just how kind and patient the people at LifeScape have been with James," says Mary. "They have worked tirelessly with him. He's a restored human being—he has made magnificent strides."
His staff agrees that James continues to grow. "At first he was more concerned with looking cool, listening to loud music, and teasing his peers," says Brit Kroon, Lead Instructor in the SOAR Day Program. "Now he is concerned with health and fitness, treating others well, and being a good worker. He helps his peers as much as he can now, including cheering them up and listening carefully to others with more significant brain injuries. He tells me things like, 'I decided to accept when people tell me I'm doing things wrong, so I can do them better.' He would never take advice before. It has been so rewarding to see his growth as a person."
If you ask James about his grandmother, he'll tell you she's his favorite person in the world. "I've been through a lot," says James, "and she never gave up on me." He loves visiting her, where he enjoys her great cooking, especially her chicken and dumplings and apple pie. He also spends much of his weekend with his brother Aaron, who lives with his wife and three daughters in Sioux Falls. The couple has also taken in James' two youngest sisters, so James remains connected with them, as well as many extended family members.
What James lost through two traumatic brain injuries may never be completely recovered, but what he's gained is a sense of self, a sense of responsibility, and a sense of gratitude. "James has a story to tell, says Mary, "and it's 'Follow the rules.'" His wisdom came at a very high cost, and his greatest hope is that others may learn from his experience. His other advice? "Never give up."