Our Seating & Mobility Team
October 30, 2020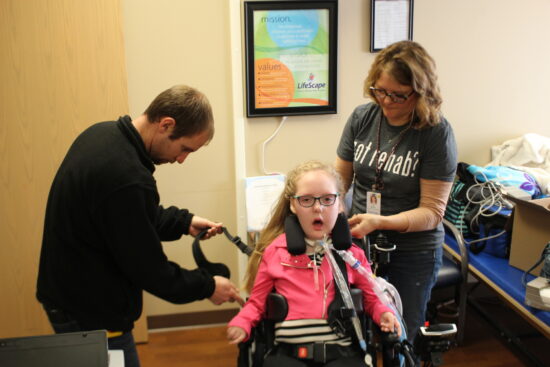 Overall, more than 29% of assistive technology devices obtained by people with disabilities are eventually abandoned. Mobility aids are abandoned at an even higher rate. At LifeScape, we believe performing a thorough evaluation for these devices prevents that and makes them useful for years at a time. Our therapists determine the person's wants and needs and do comprehensive assessments of physical condition to get the most suitable equipment for each patient.
Our seating and mobility team includes technicians, vendors, and four therapists certified as both Assistive Technology Professionals (ATP) and Seating and Mobility Specialists (SMS) by the Rehabilitation Engineering and Assistive Technology Society of North America. There are fewer than 4600 ATP certified providers and only 200 SMS certified providers in all of North America. This means LifeScape has 33% of the SMS certified professionals in the four-state region and more SMS certified professionals than any single service provider in North America. The number of therapists with this certification demonstrates our commitment to exceptional seating and mobility services.
Our seating and mobility team uses specialized evaluation and diagnostic equipment. This includes digital pressure mapping to determine pressure location and intensity for prevention and healing of pressure ulcers. We also use a wheelchair seating simulator to evaluate seated position and support needs. Finally, a molded seating simulator creates custom seating systems that match the body contours of each patient. LifeScape also maintains a fleet of powered wheelchairs with a wide range of control devices to enable children or adults to be independently mobile, even in cases of very complex physical disabilities.
If you have questions related to seating and mobility, please contact us. In Sioux Falls, the number is (605) 444-9700, and in Rapid City, it's (605) 791-7400.