Scottish Rite powers speech and language programs at LifeScape in Rapid City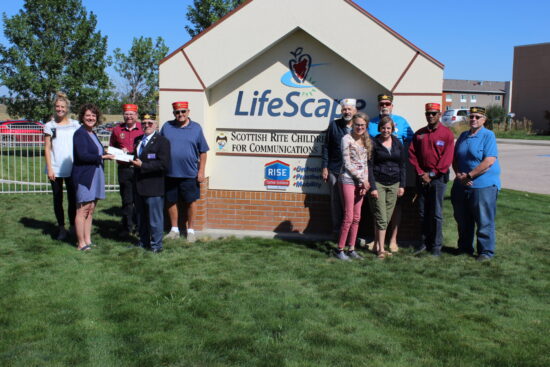 A big shout-out of gratitude to the Scottish Rite Masons, who are major benefactors of our speech-language pathology services at LifeScape! They are sponsoring two of our therapists to attend the Scottish Rite Children's Language & Literacy Conference in St. Louis next week, where they'll learn about the latest research and developments in the field.
They also dropped off a check this week to fulfill a speech therapy need on our Wish List. Since 1994, countless West River children have received speech and language help at LifeScape with the help of the Scottish Rite Masons. Language and reading skills are key to success in school and in life, and thanks to the Scottish Rite, kids are able to catch up to their peers in their speaking, reading, and language comprehension skills.
Shown left to right in the photo are: Mallory Amo, Speech-Language Pathologist; Tisha DeGross, Director of Operations-LifeScape Rapid City; Sec Bob Tesch KCCH; VM Harold Ireland 32; Wisemaster Steve Barns KCCH; Bruce Crisman 33; Kristen Wilen, Speech-Language Pathologist; Heather Bradley, Speech-Language Pathologist; Commander Dave Meltz 32; Bryant Stokes KCCH; and JW John McKnight 32.