Sanford Health Volunteers Make For Unforgettable Day At LifeScape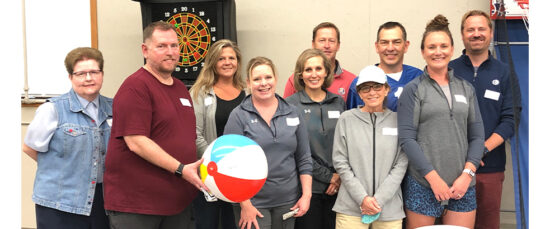 Most probably hadn't gathered together to play recreational games in a while, but when Tony Morrison and his senior directors from Sanford Health came to play against the LifeScape friends, there was nothing but joy. "Our Revenue Cycle team at Sanford had adopted LifeScape friends for the past couple of years. We wanted to make the holidays something special for them – and our team jumped at the opportunity to do so," says Morrison, who is Vice President of Revenue Cycle Business Department. "Then we had the opportunity to meet some of our friends on July 30. Wow! What a meaningful experience for all of my leaders including myself. We are still talking about our experience and the new friends we made."
It's not the first time that members of Morrison's department have stepped away from their spreadsheets and calculators to put smiles on the faces of people at LifeScape. In 2019, they decided to host an Angel Tree for LifeScape at Christmas. They quickly snapped up all the wishes and asked for a second Angel Tree. They maxed out that one, too, and gave even more holiday gifts to children and adults at LifeScape.
For Christmas 2020 and during the pandemic, they wanted to ensure their staff had giving options that fit their individual abilities. The entire Revenue Cycle Department gave $2,281.25 in cash as well as purchased various groceries items and other adult needs. Plus, they gave clothing, games, and books for patients in Children's Specialty Hospital at LifeScape.
The indoor recreational activities included chair volleyball, bowling, billiards, puzzles, and more. Morrison and nine of the Revenue Cycle Senior Directors came out to spend time with adults just to have fun and build friendships. The hours were filled with laughter, friendly competition, personal choices, encouragement, and conversations. It's their way of connecting with the community and keeping perspective in their work. We're grateful for his team, their uplifting attitudes, and our new friendships. A special day indeed!