RISE Custom Solutions "opened the door" to a fuller life for TBI survivor
September 21, 2021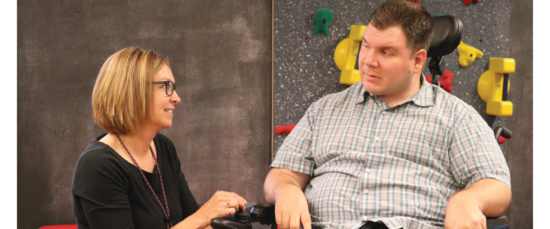 Karyl Mews counts June 24, 2005, as the worst day of her life. She had already had a tough year—she thought the worst she would ever have. Her husband had died just 11 months prior after an 18-month battle with cancer. Then her mother died suddenly six days later. She was still in "grief fog" when she got the phone call that would change her family's lives forever.
Her 20-year-old son, Ryan Bade, had been jet skiing with friends on a lake in Minnesota when they accidentally hit him with their boat. Had he not been wearing a life jacket he would surely have drowned, but when his friends got him in the boat, it was clear he had a serious head injury. Ryan was airlifted to St. Cloud Hospital, the nearest facility with head trauma expertise.
With son-in-law Mike at the wheel, Karyl and her daughter Emily began the four-hour trip to St. Cloud. "On our way, the ICU (Intensive Care Unit) nurse called to see how far away we were and to inform me that Ryan was on life support with very little brain activity," says Karyl. "I was sure organ donation would be our conversation when we arrived. Thank God it wasn't." Ryan was just beginning his fight.
After ten days in a coma, Ryan stabilized enough to be transferred to a Sioux Falls hospital. After that he was hospitalized at two different rehab facilities in Nebraska. In all, Ryan was hospitalized for 22 months, with Karyl always by his side. Emily took FMLA leave (Family and Medical Leave Act) from her job and was able to be with her mom and brother for the first six months. Karyl knew it wasn't easy for the newly married couple to be apart for so long, but Mike and Emily both recognized the importance of her being present for her mom. "My husband and mother, who would typically be my support, had been gone for less than a year," says Karyl. The support of her daughter and son-in-law was a lifeline for her.
After his last hospital discharge, Ryan returned home to Sioux Falls and began outpatient therapy. When he was no longer showing progress, however, his medical coverage ended, and much of their hope evaporated, too. At the time of the accident, Ryan had just finished his sophomore year at the University of Minnesota-Minneapolis, majoring in Communications and Sociology. Now he was a guy with a permanent traumatic brain injury, using a wheelchair and unable to do much for himself, living with his mom for basic care. The future didn't look too promising. "Every year you hear about accidents like Ryan's," says Karyl. "But you never think it will happen to you."
At some point, after his therapies ended, Ryan started developing sores on his feet from his AFOs (Ankle-Foot Orthotics) and was referred to LifeScape affiliate, RISE Custom Solutions for new ones. The orthotist there heard Ryan's story and suggested they make an appointment with Julie Johnson, MD, a PM&R (Physical Medicine and Rehab) physician and Medical Director of Rehabilitation Programs at LifeScape. This was her specialty, and the orthotist thought she could help. He was right. "Dr. Johnson got him into specialized rehab therapies for about another three years," says Karyl. "We thought we were at the end of the road, just sitting at home. When you stop services, you lose what you've worked so hard to gain. She's special to me because she gave me hope."
Besides being fitted for two power chairs over the years, most of Ryan's rehab treatment has been for muscle spasticity or tightness, a result of his injured brain sending abnormal messages to his muscles. In addition to getting AFOs, Ryan has had serial casting to lengthen his tendons and gets periodic Botox shots and Baclofen pump refills to relax his muscles.
Karyl considers the referral to RISE for orthotics 13 years ago as a turning point. "It opened new doors for us," she says. Ryan enjoys his appointments there and loves to joke around with the staff, many of whom are about his age. "It feels like it's more than a job for them, it's a relationship," says Karyl. "Everyone is so nice, and they all know his name. They're like family to us."
"Ryan is a joy to have in our clinic," says RISE Custom Solutions Physical Therapist Shawn Frewaldt. "Whether he is here to see our physicians, for equipment or orthotic changes/modifications, or a bout of therapy, he arrives with a smile on his face and a never-ending supply of 'one-liners' or totally appropriate song lyrics to compliment any situation! Ryan and Karyl are always very appreciative of our efforts and it is a pleasure for each of us to be part of their team."
Ryan and Karyl stay busy in the community, with Ryan using his power chair to navigate concerts, sporting events, church, and social gatherings with family and friends. Along with that support, RISE and LifeScape are there with the rehab expertise to keep them going. "I feel like they have helped me do everything we can for Ryan," says Karyl. "There always seems to be hope there."