Riggins Strong: Family raises awareness and brings hope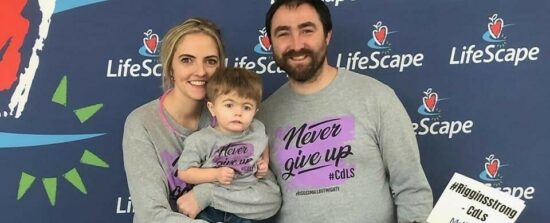 Riggins Hoffbeck hadn't been getting therapy at LifeScape very long when his parents, Tiffini and Taylor, decided to start a MallWalk team in his honor. Friends and family turned out for MallWalk 2023 to be part of the "#RigginsStrong CdLS" team. They wanted to help LifeScape and other families and bring awareness to their son's rare genetic syndrome. Here's their story:
Twice each week, Tiffani Hoffbeck makes the 90-mile trip from her home in rural Garvin, Minnesota for her son to have occupational and speech therapy at LifeScape in Sioux Falls. There are therapy options closer to home, but for Tiffani and her husband Taylor, it's worth the six hours of driving each week for two-year-old Riggins to get occupational and speech therapy at LifeScape.
"Ever since we've started coming here, we've loved LifeScape," says Tiffani. "Riggs has a real connection to his therapists."
Riggs, the Hoffbecks' second child, was born in Sioux Falls three weeks early in December 2020. There were no signs during Tiffani's pregnancy of anything amiss, but there were a few troubling symptoms after he was born—his head was a bit large, his blood sugar was low, and he had trouble feeding. "When he was born there was definitely a sense that something was wrong," says Taylor, "but there was no doubt in our minds that he was right where he needed to be to get the treatment and care that he needed."
It wasn't until he was 18 months old, though, that testing revealed that Riggs has Cornelia de Lange Syndrome (CdLS) a non-inherited genetic disorder occurring in approximately one in 10,000 births. It is now known as the "CdLS spectrum disorder" because its effects are so wide-ranging, sometimes never being diagnosed properly at all. It can affect growth; the skeletal system; intellectual, learning, and motor development; behavior; and the internal organs. "After Riggs' initial diagnosis of CdLS, Tiffani and I discussed the many unknowns that came with the diagnosis. There was no doubt in our minds where we were going to bring him for therapy, however. Lifescape was our number one choice."
"Riggs is an amazing child to work with," says Speech-Language Pathologist Julianne Clark. "He is so smart, kind, and happy-go-lucky. He started by working on increasing expressive language (speaking to others) and receptive language (his understanding of language).
Julianne then started teaching Riggs to use a speech generating device, which he's using really well. She says being able to communicate better has significantly decreased his frustration and negative behaviors. "We have been working on requesting toys, commenting during play ('all done,' 'more,' "pop'), and taking turns using 'your turn/my turn' buttons during our sessions," she says. "He has been doing great with requesting items." "I will never forget the day he came home from therapy with his "Hi, my name is Riggs" button on his device," says Taylor. "The smile on his face was priceless."
It is hoped that the communication device will improve his spoken communication, too, which is often the case. He now speaks a handful of words, and the Hoffbecks also use sign language with him. "His family has been such a strong support system for him and has been great at making sure the device is used in all environments," says Julianne. "They have never missed a session and have always been such a joy to work with." "Riggs is an absolute blessing of a son," says Taylor. "I would not have it any other way."
Now that Riggs is off and running with his communication device, Julianne will begin focusing on his swallowing challenges. At this point, he can't drink thin liquid without inhaling it into his lungs.
Tiffani often brings family members to therapy to watch Riggs' progress. "Everyone is so great to work with, and the therapists are just great people," she says. "We come to LifeScape with all our questions." "Lifescape has been the best thing we could have asked for Riggs," adds Taylor. "He is where he is today in all facets of his life because of the EXCEPTIONAL care that the staff at LifeScape has given him and our family."
Occupational Therapist Kaylee Saltmarsh says that Riggs is a sweet little boy and fun to work with. "He is typically smiley, happy, and silly for therapy sessions, and has worked up to attending sessions on his own," she says. "Riggs has made nice progress in his OT goals over time, just recently meeting goals for age-appropriate dressing skills and tolerating messy play with his hands. He is doing well tolerating unstable movement in sensory therapy, which will help him be confident in using playground equipment. He has also built the fine/visual motor skills needed to complete a simple inset puzzle."
Kaylee adds that Riggs is now working on other fine and visual motor skills for school-readiness, such as strengthening and pre-writing skills and tolerating various types of clothing. The goal with the clothing, besides making him more comfortable, is for him to wear a vest that will hold his communication device at pre-school, which he begins in nearby Tracy, MN when he turns three in December. "I can't wait to see all the continued progress he will make in his goals and in life," she says.
Riggs wasn't expected to walk but took his first steps at 18 months, soon after he started physical therapy. He's now been discharged from PT, as he's met his goals. "Lifescape has been nothing but a blessing to our family," says Taylor. "Riggs has done exceptionally well, given his diagnosis, with the help of the many therapists who have helped him throughout his time there."
Ultimately, the Hoffbecks just want Riggs to be happy and be the best version of himself. "We'll treat him no differently," says Tiffani. "We hope to see him graduate from high school and be as independent as possible." LifeScape will be along on Riggs' journey to get him there.
MallWalk turns 30 years old in 2024! Join us for the big day on Saturday, February 3rd, 2024 at the Empire Mall in Sioux Falls.
Visit LifeScapeMallWalk.org to learn more or make a donation to #RigginsStrong or another MallWalk team!