Over $97,000 raised at 25th Annual Mall Walk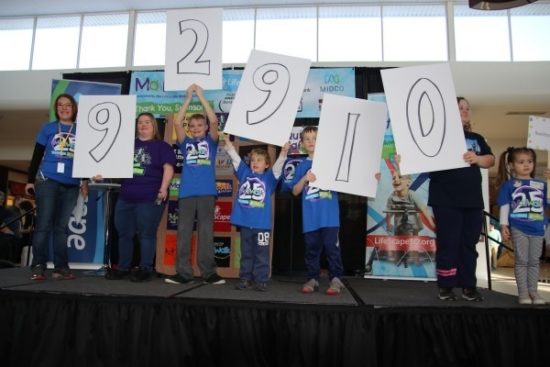 The 25th Annual Mall Walk for LifeScape took place Feb. 2 at the Empire Mall in Sioux Falls. Over 800 people of all abilities came together to bring awareness to LifeScape's vision – that all people are to be valued and respected. At the end of the event, $93,000+ had been raised to benefit children and adults with disabilities supported by LifeScape. Since then, more contributions have come in for a fundraising total of $97,437.59!
Top Team Fundraiser was Blake's Singing Spinners with $7,386. The second place team was Smiley Goats with $6,795 and third place went to We School You with $3,195.
Top Individual Fundraiser was Jeff Horstmeyer (Team Smiley Goats) with $4,245. Coming in 2nd and 3rd were Angela Palmer (Team Levi: Power of Hope) at $3,000 and Laura Aeschlimann (Team Tanner) at $2,305.
"This awesome event has been going strong for 25 years, but wouldn't be possible without the hard work of the Mall Walk Committee, led by Kathy Hammond of the LifeScape Ambassadors," said Jessica Wells, President of the LifeScape Foundation. "We are so grateful for the Ambassadors, the supporters, and of course, our wonderful sponsors. This event is a true community builder!" The lead event sponsor was First Premier Bank/Premier Bank Card.
Ambassador Phyllis Joyce made a quilt with past Mall Walk t-shirts which was raffled. The winner was Abby Kruger, sister of the namesake for Team Blake's Singing Spinners. She wanted the quilt very much, and her family bought many raffle chances in hopes she'd win!
As always, the scene was festive, with music by Tim Neuroth of Stone Cold Music, aerobic warm ups led by Carrie Roberts from the Sanford Wellness Center, and entertainment by the Dakota Spirit Sparklers, The Balloon Guy, face painting, Disney Princesses from Ever After Entertainment, El Riad Shrine clowns, Ghost Busters, Star Wars characters, super heroes, and more!
We thank everyone who supported the 25th annual Mall Walk. Proceeds will go toward Wish List purchases for LifeScape, with gifts granted by the Ambassadors.
The next Mall Walk is scheduled for Saturday, February 1, 2020 at the Empire Mall in Sioux Falls.