"Nothing is small." Mason overcomes obstacles with determination and hard work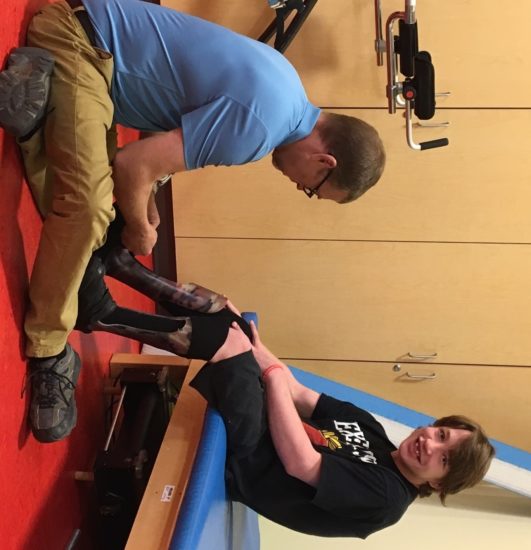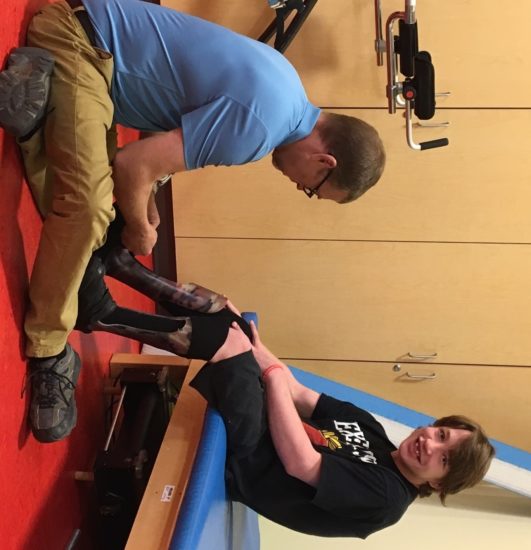 Twenty-year-old Mason Vider is a young man in a hurry. Since he started physical therapy at LifeScape last spring, he has been single-minded in his determination to be as independent as possible.
He had a rough start, says his mother, Kathryn Carelli. He was born two months early, and has a diagnosis of cerebral palsy. After living with his father out of state for the past several years, he moved to Rapid City in early 2016, where his mom was eager to set and meet new goals.
She was aware of the quality therapy provided at LifeScape, and got Mason started in physical therapy last March. Christine Stephenson, his physical therapist, says Mason is driven to succeed. "He has learned a lot about how to move his body,'' she says. "As soon as I taught him he could do something, he went home and worked on it until he mastered it."
"He's relearning things he knew as a kid," says Kathryn. "He did walk with crutches at one time, but fell out of the habit. He is really determined to walk again now. He wants to drive and go to school, too." Mason recently got a job at Toys R' Us, and loves having a paycheck. "There have been so many milestones already. Nothing is small--it really gives me perspective."
Christine says she's re-teaching his muscles how to move in isolation--to move one leg at a time. He is improving his balance and is successfully transferring in and out of his wheelchair on his own.
Kathryn is grateful for Christine's expertise with Mason. "She is so friendly and encouraging--he really needs that. She knows he's a go-getter, and is really creative in coming up with exercises for him. She has him walk on the treadmill in a harness, to build strength in his hips."
"He's a neat young man," says Christine. "He's made so much progress. He really is a hard worker."
"Everyone at LifeScape is so excellent with him," says Kathryn. "James and Josh have worked on his wheelchair, and Brad (Orthotist Brad Bracewell is shown here in the photo with Mason) and Erin have worked on his leg braces."
With his attitude, hard work, and support from his mom, step-dad, and LifeScape, Mason is on his way. "He was amazing when he was little, and he's amazing now," says Kathryn. "He has so much spirit. I do think he'll be walking with crutches before we know it."