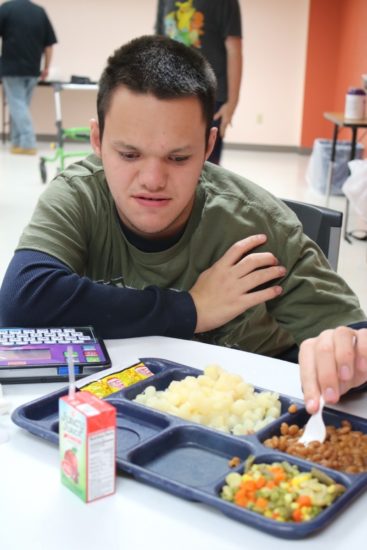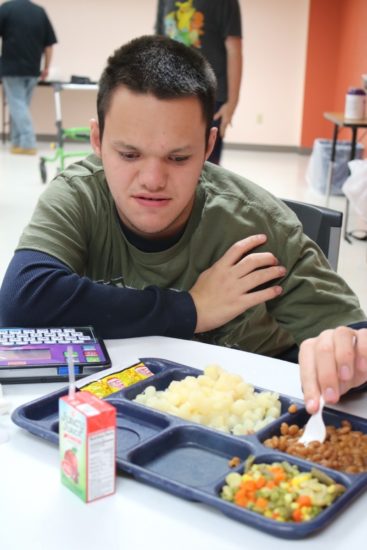 … LifeScape will make sure of that. But because of a sudden and unexpected cut to the National School Lunch Program, almost 400 adults with disabilities supported by LifeScape face a new challenge: how to pay for their breakfast and lunch each day.
The financial impact of this federal cut is an annual loss of $250,000 that covered LifeScape's cost for providing these meals. LifeScape is working with our adults and their families to prioritize which monthly bills will get paid and which can wait. For adults who have financial resources themselves or have family who can help, the need isn't as great. But there are many individuals who don't have family or other resources to help. Any support that you can provide will be put to immediate use for those who have no other resources to meet their food security needs.
LifeScape is their family. We won't let anyone go hungry. But we need your help.
Please review the information and news reports below, which more completely explains the personal impact of this decision on some of our most vulnerable adults.
KSFY Story
KDLT Story
Food Assistance for Adults with Disabilities
Here's how you can help!
All Hygiene Products: Shampoo, Gentle Body Wash- no bar soap please, Conditioner, Shaving Cream, Tooth paste, Toothbrush, Hairspray, Bath Towel sets, Cleaning Products, Laundry Soap, Dish soap, Deodorant, Hair brush, Mouse/gel, Men's cologne, Women's body spray, Socks, Underwear, T-shirts, Razors, Unscented (or light scent) Lotion, Hair ties/stretch material bands, Nail clipper and File, 4x4 gauze pads, 2x2 gauze pads, etc.
Breakfast Foods: Coffee, Flavored oatmeal packages, Granola Bars, Cereal bars, Cereal, Carnation Breakfast drinks, Cash or gift card to HyVee for eggs/milk (hot meal items), Pancake mix, Syrup, Muffins, Juice Concentrate in a carton or Frozen Juice Concentrate, Almond milk, Gluten Free Bread, Zone Perfect Protein Bars
Lunch Foods: Boxed meals (Hamburger helper, spaghetti, sauce, mac & cheese, stuffing, rice, etc.) Microwavable meals (rice packets, soups, mac & cheese, etc.), Oven meals (Lasagna, etc.), Canned meat (tuna, chicken, etc.)
Treats/Healthy Treats: Pretzels, pudding cups, Jell-o cups, chips, snack cakes, popcorn, hostess, candy, Cheetos puffs, applesauce cups, licorice, boxed baking goods (brownies, bars, cakes- we will bake them), MIO water flavoring, water flavoring packets, fruit cups, trail mix, anything. The fun 'treats' that we all enjoy are very limited. Any snacks you provide will offer personal choice and satisfaction with people's limited income. Personal choice and a daily treat makes life more enjoyable.
Other Valuable Resources: Paratransit tickets. Cash or gift cards will be used at grocery stores for milk, eggs, meats, bread, and other ingredients to be able to prepare a meal.
Your donated items may be dropped off at the following locations:
LifeScape Children Services: 2501 W. 26th Street
LifeScape Adult Services: 4100 S. Western Avenue
LifeScape Rehabilitation Center: 1020 W. 18th Street
Service First Federal Credit Union: 3901 E. 10th Street
Dairy Queen: 5420 W. 26th Street
Sunshine Foods: 530 S. 2nd Ave (until Dec. 31)
We THANK YOU for considering what you can do to help LifeScape achieve its mission of empowering children and adults with disabilities to lead fulfilling lives.