No Limitations: RISE ensures Kayley's power chair provides maximum independence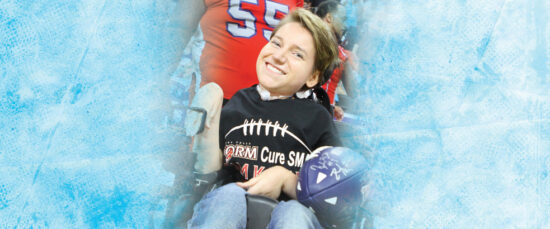 My name is Kayley Shade and I was born with a genetic disease called Spinal Muscular Atrophy (SMA) Type 2, the second most severe type of SMA. SMA is a disease that robs people of physical strength by affecting the motor nerve cells in the spinal cord, taking away the ability to walk, eat, or breathe. It is the number one genetic cause of death for infants. Because of SMA, I have never walked and have required a wheelchair since I was two years old.
Despite having a physical disability and needing help with daily living, I strive to be as independent as possible. My power chair helps me achieve that independence. I can go to concerts, movies and attend sporting events. I work for the Sioux Falls Storm, an indoor football team, and my chair helps me achieve my independence. With my chair I can navigate myself at meetings and games, have private conversations pertaining to my job without an attendant present, cover a lot of ground without relying on someone else to be available to push my chair for me in the Denny Sanford PREMIER Center.
I recently got elevation on my power chair. I now have ZERO limitations in my chair. I'm now able to see over the railings and tables, I can sit at bar tables, I can look people directly in their eyes when talking to them and people no longer have to kneel down to take a picture with me. Along with so many other things.
Thanks to Jill Barron and Arlen Klämm of RISE Custom Solutions and LifeScape for always knowing what chair will fit my needs and for helping me achieve maximum comfort and independence. Along with the help of Chris Rokeh and Mark Dahm who have always been able to make my crazy requests for my chair become possible.
- Kayley Shade is the Director of Media Relations for the Sioux Falls Storm football team