My Voice: "There's so much more to me than my disability"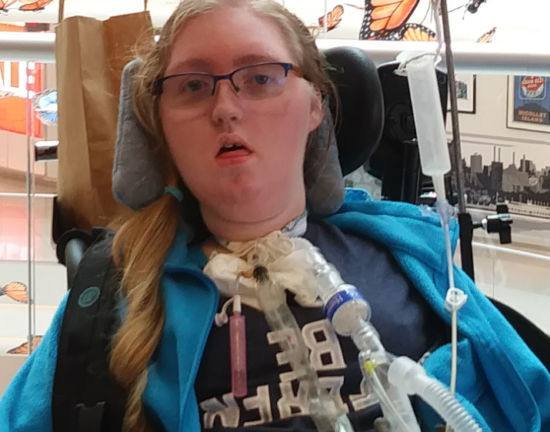 By Trinity Miller
Hi! My name is Trinity Miller. I was born with Spinal Muscular Atrophy type 1. SMA is a genetic disease that weakens the voluntary muscles over time. There are four types of SMA, type 1 being the most severe. Spinal Muscular Atrophy is based on the age of onset. SMA type 1 is found during an infant's first six months of life, and is also the number one genetic killer of babies under the age of two years old. I was a very floppy baby. I wasn't able to hold my head up or crawl, for that matter. The doctors originally thought some babies just took longer to develop—that was until I lost all of my reflexes. My little sister Carrigan also has SMA. Even though I have Spinal Muscular Atrophy, there's so much more to me that people don't always see. For instance, I can't smile, but that doesn't mean I'm not happy. People oftentimes assume that I am just tired. I'm actually pretty hyper.
My parents are so inspiring. They could have given up and been like, "Woe is me," but instead they have decided to persevere each and every day. Because of them I have learned that love has absolutely no limitations. They give my sister and me as much of a normal life as possible. We go camping, sledding, fishing, and even horseback riding. Some activities I personally enjoy doing are writing and singing songs, playing on the computer, and driving my wheelchair.
Music is like oxygen to me, without it I would die. I know that seems pretty dramatic, but for me it's true. When I am writing a song, I don't know if it'll be any good or not. All that matters to me is that if I love what I'm doing and if it makes me feel free, then I know I've accomplished my goal. Music is one of my many ways of forgetting that I have a disability. 2018 was an incredibly difficult year for me. I had to go through several struggles and surgeries. It was terrifying for my family and me. Because I love music so much, I listen to Shawn Mendes before any spinal injection, which is a treatment for SMA called Spinraza. For some reason, his music always calms me down.
I am very grateful for the opportunity to write this article!
Trinity lives in Watertown, SD and was hospitalized briefly at LifeScape in the late '90s as an infant. She and her sister are fitted for their wheelchairs at LifeScape/RISE Custom Solutions in Sioux Falls.
Even though I have Spinal Muscular Atrophy, there's so much more to me that people don't always see.