My Voice: "LifeScape taught me so much about what really matters in life"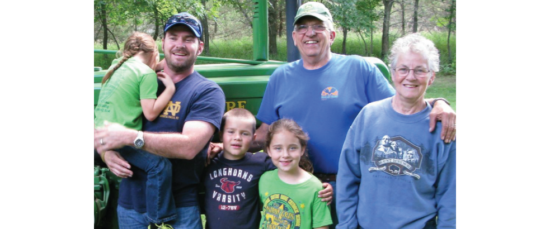 I grew up on a farm near Dell Rapids and spent the first 25 years of my married life farming with my wife, Judi. Together we raised six boys and one girl. The farm was a great place to raise our children. We experienced many blessings on their journeys to adulthood—going on to the military, higher education, careers, and good marriages. We also fulfilled Judi's dream of being foster parents for several years.
After our move into town, I saw a newspaper ad that grabbed my attention: "How would you like to make a difference in the lives of others?" After touring LifeScape (then Sioux Vocational Services), I applied for and got a job as a work supervisor with adults.
This opened a new world for me. I was in awe observing staff completely focused on assisting people in learning new tasks. They were very proud of what they could do, and it caused so much happiness and desire to learn more difficult things. I learned that those with disabilities have many abilities with the right training and encouragement. Every day was a new experience, and I was greeted at the door with news from their homes, their concerns, and requests for the upcoming day.
They were curious about where I lived and wanted to meet Judi. So, each week, two people from day services would come home with me to see my town, my house, and meet Judi, who would have a delicious meal ready for us. Things like this made such an impact on their lives, and we felt so much fulfillment in providing that love and enjoyment. Some wanted to visit yearly, so we hosted group picnics in our back yard twice each summer so all could come at least once. We also volunteered at "Trent Farm" each summer, which is dedicated to enriching the lives those with disabilities. Every Wednesday all summer, volunteers give wagon rides in pastures to feed corn to cows, help people drive a tractor, ride a horse, fish in a small lake, and enjoy a picnic lunch followed by a singalong.
I gained a real awareness that everyone has God-given gifts to share. I found that the more I spent time with them and helped them reach new goals, the more fulfillment I felt in my heart. They taught me so much about what really matters in life, and I have made some very dear, lifelong friends. I will never be able to return the fulfillment they have brought into my life. I thank God often for giving me the opportunity to share myself with these special people for so many years, and I am blessed to have them in my life!
-Jerry Klein worked in Adult Services at LifeScape from 2000 to 2012. He still visits old friends regularly at one of our residential homes. Photo is from 2012, showing Jerry with his wife, Judi, son and grandchildren at Trent Farm near Dell Rapids.
To make a difference as a volunteer, email rebecca.sluiter@LifeScapeSD.org. To make a difference as an employee, visit www.LifeScapeSD.org/Careers

Your gift to LifeScape can impact children or adults in whatever way you wish. Click here to make an online donation, or call (605) 444-9800.