Music: The Common Language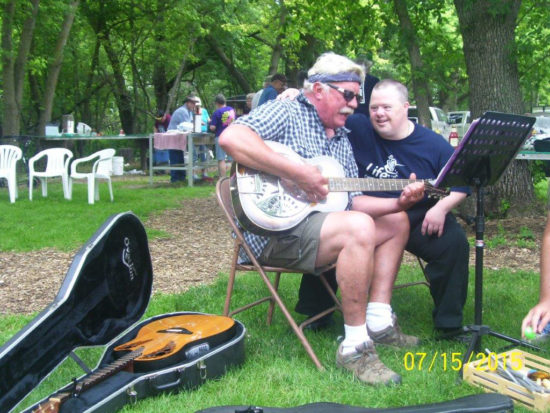 For the past two summers, Dan Kuper has taken Wednesdays off from his job at LG Everist in Dell Rapids to volunteer at a farm property near Trent. He's one of many in the area who help Trent farmer Lauren Christensen provide a place for people of all abilities to enjoy a day in the country.
Activities include wagon rides, fishing, feeding corn to cows, horse-back riding, picking pumpkins and corn, cooking hotdogs over a campfire, or taking a ride on a four-wheeler. Dan helps people on and off wagons, serves camp fire meals, and does whatever is needed, but his greatest joy is to share his music.
After the meal, Dan swings in to action, setting up chairs and pulling out his guitar to play old campfire songs. A group of eager singers gathers around him, picking up the tambourines, chimes, bells, and drumsticks Dan has available for playing along. This photo of Dan and Mike says it all.
Mike uses his communication device to elaborate his needs, but music is the one language both gentlemen have a passion for. "Is this fun or what?" says Dan.
We are grateful to Dan and all the Trent/Dell Rapids volunteers who come out every Wednesday, June through September, to provide a fun day in the country to those supported by LifeScape and many others in the area.