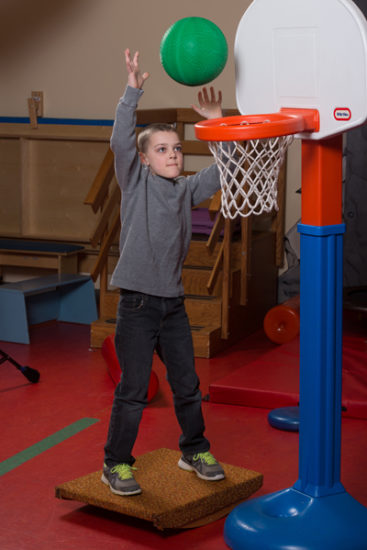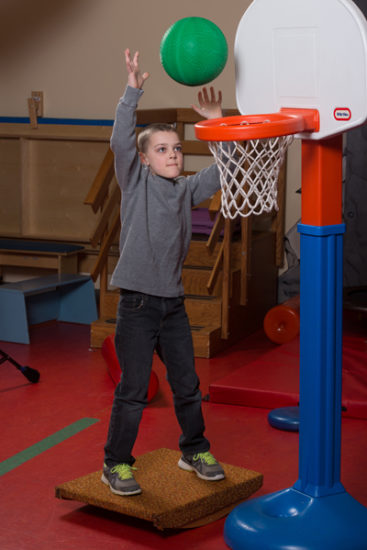 Dominic Deyo was SO excited to get a new bicycle for Christmas.
Not unusual for an 8-year-old boy, perhaps, but Dominic's parents are still amazed that their son can even ride a bike.
Just six short months ago, the second grader didn't have the muscle strength to pedal a bicycle, much less the balance and coordination necessary to ride one.
"It's amazing. It's a huge accomplishment for him," says Shane Deyo, Dominic's dad. "When we first started coming to LifeScape, he wasn't coordinated enough to ride a bike. We started on a Strider. He couldn't steady himself. He had no balance. Now, he rides a pedal bike at home all the time."
Without training wheels, Dominic proudly adds.
Shane and Kim Deyo, of Box Elder, adopted Dominic in a kinship care arrangement through the South Dakota Department of Social Services four years ago. The birth son of a distant relative of Kim's, Dominic had been severely neglected, and perhaps physically abused, early in his life. When he arrived at his forever home at age 4, he was still wearing a diaper and suffering from other developmental delays. One month later, the Deyos were told that medical testing had diagnosed Dominic with Fetal Alcohol Spectrum Disorder, Attention Deficit Hyperactivity Disorder, a chromosomal abnormality, auditory processing problems and extremely low muscle tone, caused by a lack of infant stimulation. "There was a lack of parenting. He was just left in his crib by himself all day because they just didn't care," says Shane. "He had never been cuddled. He didn't even know what that was and he didn't like it."
As Dominic grew, so did his delays in development and behavioral problems. His behaviors were "beyond what we ever imagined," says Kim.
Still, the Deyos, who struggled with infertility and late-term pregnancy losses and were childless for nearly 20 years, never reconsidered their adoption decision. "Not once did we think of changing our mind. Never. We love him like our own. Whether he grew in my body or in my heart, it doesn't matter," Kim says. "He's ours."
Today, he gets physical therapy, occupational therapy and speech therapy three days a week at LifeScape in Rapid City, thanks to a referral from his counselor after his treatment elsewhere stalled and he began regressing. The Deyos had never even heard of LifeScape before June of 2015, but now they can't imagine life without it.
Physical improvements have come rapidly thanks to Dominic's hard work and the expertise of LifeScape physical therapist Christine Stephenson. "He loves Christine," says Kim. "When we first started coming here, he could barely do a jumping jack. Now, he's jumping like crazy!"
Dominic's favorite task during physical therapy is still riding a Strider, a pedal-less bike designed for toddlers that develops balance and creates a seamless transition to a regular bicycle. But the boy with the big, beautiful blue eyes and a shy smile admits his least favorite therapy task happens during occupational therapy when therapist Sarah Wold-Hanson works his fine motor skills by having Dominic practice his handwriting, among other tasks.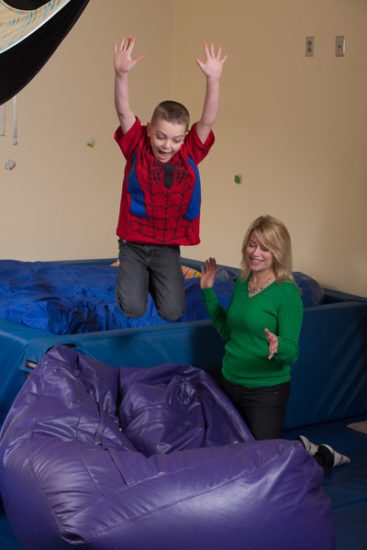 "The thing I don't like is writing letters," says the Francis Case Elementary School student who is quick to list "recess" as his favorite school subject.
"Sarah is really, really good with him. Her energy level with him is so high," says Kim. "He loves coming here. Last week he couldn't come because he had an ear infection, and he was so sad."
The feeling is mutual.
LifeScape therapists can't say enough good things about the Deyo family and what they are accomplishing together.
"They are shining stars in my book," says Wold-Hanson. "What a terrific job they are doing for that little boy. Together, it's a terrific example of collaboration where everyone is working hard both here at LifeScape and in the home to improve life for a child who needs the whole gamut of therapies."
"We're busy. Very busy," admits Kim, who no longer works outside the home so the family can accommodate Dominic's four-day-a-week therapy schedule.
Jenn Holec, a LifeScape speech therapist, is working to eliminate a lisp in Dominic's speech pattern. She's also helping him strengthen his facial muscle tone, which had affected his ability to chew meat. "His speech has improved a lot since he's been at LifeScape," Kim says.
Plus, for the first time in his life, Dominic is eating steak.
"His lack of muscle tone also affected his ability to eat. Since he came to live with us, he has never been able to eat steak. He just couldn't chew it up. He'd end up spitting it out. He'd never developed enough muscle tone to do that. Now, he can chew small pieces," Kim says.
Shane Deyo is also thankful for LifeScape's advocacy for Dominic with the school district, to qualify him for special education services through an Individual Education Plan.
"Kudos to LifeScape for helping us do that," says Shane. "And so much, much more."