LifeScape's Mollie Keating completes training for new Behavior Specialty Program
April 30, 2021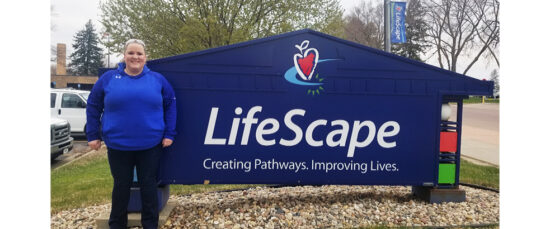 LifeScape's very own Mollie Keating recently completed the required training for the Behavior Specialty Program. This new program is designed to enhance the level of support given to those served within the organization.
"I'm always interested in learning about new ways to enrich the lives of those we serve," said Keating. "So, when I first learned that LifeScape was offering the Behavior Specialty Program I jumped at the opportunity! I'm grateful that LifeScape gives staff the opportunities to grow in their position while continuing to live out our vision of providing exceptional services and creative solutions."
Offered to Direct Support Professionals (DSPs), the program is touted for its capacity to directly benefit persons supported at LifeScape, while simultaneously acting as a skill-based career path initiative for DSPs. To complete the Behavior Specialty Program, employees must be full-time DSPs at Holmes Hall, complete 40 hours of training in Applied Behavior Analysis, and undergo a competency review conducted by a behavior analyst. Upon completion, staff members receive a $2.00 per hour increase in pay.
With Board Certified Behavior Analysts in short supply, LifeScape is anticipating that this innovative program will help identify people who want to peruse that career path and move up professional at LifeScape.
"I appreciate Mollie stepping up to get this extra training," says Jon Rush, Holmes Hall Coordinator of Support Services. "Holmes Hall serves children with the most challenging behaviors, so good training is vital to providing good support services. This advanced training gives them the knowledge to understand the behavior and the tools to respond in the most effective way to help the child develop more functional responses."
Holmes Hall, located within LifeScape's 26th Street location in Sioux Falls, SD, is designed to serve individuals between the ages of 10 and 21 with higher behavioral needs, including autism. Created in the spring of 2020, this residential area for children and young adults requires intensive support and a unique set of skills and competencies.