LifeScape volunteer fundraisers honored by state organization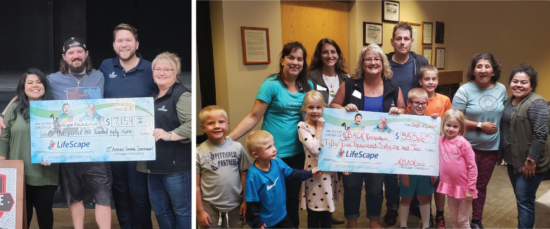 Two LifeScape supporters were honored November 15 by the South Dakota Chapter of the Association of Fundraising Professionals (AFP SD).
KBACK Radio of Sioux Falls was named South Dakota's Outstanding Philanthropic Corporation for 2021. Through its Rockathon for LifeScape, KBACK has helped raise $160,000 for children and adults supported by LifeScape. KBACK's Frank Anderson donated hundreds of hours of prep work and 22 hours of airtime sharing the stories of children and adults with disabilities who found hope and help through LifeScape. KBACK also promotes the Dine out for LifeScape fundraisers and backed LifeScape through three PorkPalooza fundraisers. KBACK is working on an all-new event to raise support for LifeScape this coming summer. As Frank says, "It's the right thing to do."
Nic Knapp of Coca-Cola Bottling Co. High Country of Rapid City was named as 2021's Outstanding Volunteer Fundraiser. Besides securing his company's backing as a sponsor for LifeScape's radiothon in Rapid City, Nic has recruited other sponsors for the event. For four years, he has spent the entire day of radiothon events volunteering, answering phones, and running errands. Three years ago, he spearheaded an annual cornhole tournament to benefit LifeScape, recruiting teams, securing a venue, and soliciting donations for materials, shirts, bags and more. Nic also assists Children's Miracle Network, Make-A-Wish, Feeding South Dakota, and others, showing that his heart knows no bounds.
LifeScape Director of Development and Public Relations Kim Haiar says both men have significantly raised awareness about LifeScape and its services – Frank in Eastern South Dakota and Nic in Western South Dakota.
"KBACK is still in its infancy as a business in Sioux Falls, but Frank cares more about doing good and raising funds to help others than he does about lining his own pockets," she says.
"In Rapid City, Nic is a leader who is well-connected and has a huge heart," says Kim. "He is truly loves making a difference in kids' lives in the Black Hills region."
"We are thrilled that the Association of Fundraising Professionals has recognized the many hours of time and talent that both Frank and Nic have donated to raise funds and awareness for LifeScape."
Photo at left: Frank Anderson, back center, with staff, volunteers, and people supported by LifeScape following a KBACK Rockathan.
Photo at right: Nic Knapp, second from left, with LifeScape staff at the close of the LifeScape Cornhole Tournament.