LifeScape Specialty School: Together again!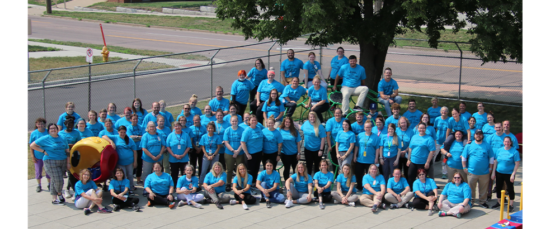 When COVID-19 was declared a national emergency on Friday, March 13, 2020, the LifeScape Specialty School immediately took action to move to online learning. Incredibly, only one day of school was called off, with virtual learning beginning on Tuesday, March 17. It was an extraordinary shift in how education was delivered to students, accomplished over a three-day weekend. Everyone rose to the occasion—administration, education staff, and most of all, parents and students. It was historic, unprecedented, amazing, and exhausting.
The planning for a return to in-person learning also began promptly. Five months later, on August 18th, 2020, a temporary off-site school for day students was opened at 711 North Lake Street. About 40 students have attended classes there since, with their own administration, teachers, physical education areas, therapists, treatment rooms, and onsite dining.
Children in LifeScape's residential program continued to attend school in the same building at 2501 W. 26th Street. Keeping the two populations of students separate helped keep both groups safer from the virus.
Now, with local COVID infection rates at under 4%, class is back in session. As of Monday, July 12th students have officially resumed attending classes at 26th Street. Renovations have been made to have day students attend classes in the south end of the building, with residential classrooms located in the north end. Staggered start and end times (the residential class schedule is 8:45 a.m. to 3:15 p.m., and day school starts at 9 a.m. and concludes at 3:30 p.m.) will allow for less congestion in the hallways and staff to transition better between areas in the building.

"We are thrilled to be able to re-integrate day school students at 26th Street," says Superintendent Vicki Isler. "2020 was a long year and I am proud of how our staff, students, and families embraced the changes that were necessary to keep our students safe while we navigated our way through the pandemic."
LifeScape Specialty School is known for having the greatest expertise in the region to help children with disabilities learn to their greatest potential. We all look forward to a more typical school year ahead and thank families for working with us to make education work for our students these past 15 months.