LifeScape partnerships to fill treatment gap for children with autism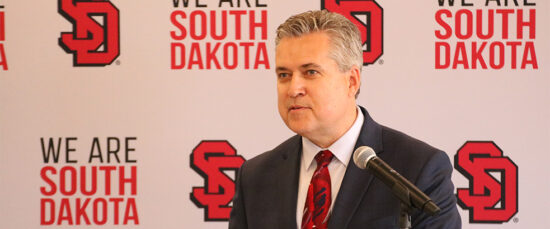 LifeScape is joining forces with the University of South Dakota to address a critical state problem: a shortage of professionals to provide Applied Behavior Analysis (ABA) treatment for children with autism spectrum disorders. The collaboration has resulted in a Graduate Certificate in Board Certified Behavior Analysis, which has now been approved by the state Board of Regents. USD is accepting applications until June 1 for the first cohort to begin in the fall of 2021.
ABA is one of the best-recognized treatments for autism spectrum disorders and has been a standard treatment at LifeScape for over fifteen years. It is an intensive intervention that teaches children with autism or other developmental disabilities social, communication, imitation, daily living, and pre-academic skills. Children with effective ABA treatment grow to be more independent and happier adults.
Demand for ABA services has increased nationally by 1,942% since 2010, due to the increase in diagnoses of autism spectrum disorders. With a growing list of children awaiting outpatient ABA treatment, a nationwide shortage of Board-Certified Behavior Analysts, and no training program in South Dakota, LifeScape reached out with a plan to "grow our own."
Dr. Kimberly Marso, LifeScape's Chief Operating Officer and a doctoral-level behavior analyst, worked with Haifa Samra, Ph.D., dean of USD's School of Health Sciences, and the USD Center for Disabilities to create the program. Candidates must have a master's degree in a related area such as education or a health or human services field. Students will complete six graduate-level courses in sequence for two years, including summers, to finish in August 2023. The seventh course is 2000 hours of supervised fieldwork experience to prepare for the exam with the Behavior Analyst Certification Board. Doctoral-level behavior analysts from LifeScape will be among the course instructors. LifeScape will also provide clinical supervision, with candidates rotating through our school, children's residential, transition-to-adulthood programs, adult services, and our outpatient settings in Sioux Falls and Rapid City.
"This partnership will allow us to meet a critical healthcare need in the state while providing a mechanism for healthcare profession students to advance their careers and stay and practice in South Dakota," says Dr. Samra. "This important new program is the result of much collaboration and cooperation with our partners, which is focused on helping our families and children." The anticipated annual salary of a Board-Certified Behavior Analyst in South Dakota is $60,000-$95,000.
One hundred seventy-six children are on LifeScape's waiting list statewide. Another 70 children await evaluations; most who are diagnosed with autism will join the waiting list. LifeScape is only one of many providers with long waiting lists. Six-year-old Nora Baker of Sioux Falls awaited ABA treatment for two years. Her mom, Margi, says they considered moving out of state to get services. Nora recently started ABA therapy and Margi says she's made fast progress, adding several words to her vocabulary. She gets 20 hours of therapy over five days each week. "She really looks forward to it," says Nora's dad, Torey. He says Nora is thriving on the structure and the chance to learn and will start speech and occupational therapy soon. Margi and Torey say it feels like things are finally looking up for their daughter.
Another partnership is addressing an urgent need for behavioral services in western South Dakota. A $282,000 grant from the John T. Vucurevich Foundation will fund a Board-Certified Behavior Analyst (BCBA) and five Registered Behavior Technicians (RBT) for LifeScape's outpatient clinic in Rapid City. The facility now has two part-time BCBAs who oversee five RBTs. This second team will decrease Rapid City's current waitlist of 69 children and expand access to ABA services for families in western South Dakota. The financial support of the John T. Vucurevich Foundation will indeed help fulfil their mission to "make a piece of the world a brighter place."
LifeScape's vision is to be an innovative organization, providing exceptional services and creative solutions for people with varied needs and complex care across their life spans. Through collaborative partnerships with other South Dakota institutions and people, we are making a difference—together.
For details on the certificate program at USD, click here.