LifeScape Nominee Travis Jensen Named Volunteer of the Month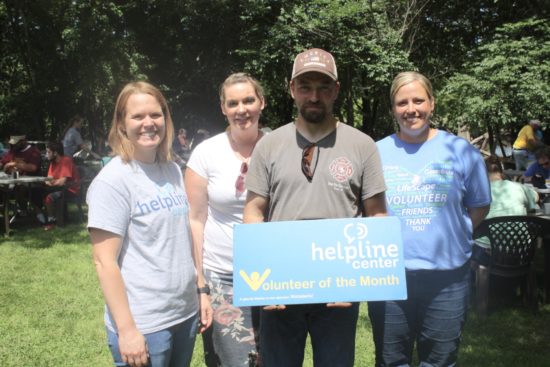 LifeScape Nominee Travis Jensen Named Volunteer of the Month
(From Helpline Center press release)
The Helpline Center congratulates Travis Jensen on being named the July 2019 Volunteer of the Month, an area-wide award program sponsored by the Helpline Center and MetaBank. Dozens of volunteer nominations are submitted from non-profits around the Sioux Empire for the Volunteer of the Month award and LifeScape's Travis Jensen was chosen for July 2019!
Travis volunteers with LifeScape at the "Trent River farm" to provide unique and meaningful life opportunities for children and adults with disabilities to ride a saddle horse. Many people have to pay to ride a horse or participate in horse therapy programs, but Travis is freely offering children and adults with disabilities the opportunity to ride a horse as many times as a person chooses. Travis keeps the horse calm and steady as innovative ways are found for people with physical limitations to get on the horse and ride. Travis is attentive to the rider's needs and emotions and ensures each stride of the horse is safe and fun for the rider.
For the past 13 years, Travis has attended every Wednesday's farm day trip, starting in June and going through the end of September, to provide saddle horse opportunities. Travis volunteers 7 hours a week for 16 weeks each year. Through his 13 years of volunteering, Travis has completed 1,456 volunteer hours.
Travis has made a difference in the lives of 800+ children and adults with disabilities by offering horse rides. Travis' dedication to children and adults with disabilities is nothing but amazing. He has helped many people to accomplish goals and dreams that otherwise may not be accomplished due to limited financial resources for people with disabilities. Travis leads by example demonstrating the power of volunteering, sharing resource, and is considered the best of the best among volunteers
Travis also assisted this year with arranging the Quarry Rock Church as a replacement location when Trent River Camp was still flooded. Travis is on speed-dial for Lauren Christensen. Anytime Lauren needs help at the Trent River Camp, Travis will drop everything to help. Travis owns his own mechanic shop and has a young family. When Travis isn't working, he isn't getting paid—however, that doesn't ever stop Travis from volunteering every Wednesday! Travis is an amazing friend at LifeScape!
The Helpline Center and MetaBank are pleased to present Travis with a framed certificate, a gift from MetaBank, and a letter of appreciation from Mayor Paul TenHaken. We will honor Travis again at the Spirit of Volunteerism Awards Luncheon on May 12, 2020.