LifeScape helps teen meet the challenges of a rare diagnosis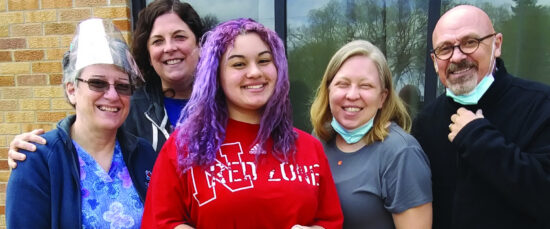 At first, Megan Eiesland of Rapid City thought her 13-year-old daughter Jordan just wasn't getting enough sleep – what teenager doesn't complain of being tired? But then there was the sudden clumsiness, the odd irritability, and Jordan's reports of ringing in her ears. Maybe she had an ear infection? COVID-19? But shortly after Christmas 2020 when Jordan had tingling in her arms and legs, Megan took her to their family doctor, who ordered an MRI. The results were inconclusive but terrifying: The scan showed several lesions on her brain. Now Megan wondered if Jordan had a brain tumor or if she'd had a stroke—and the in back of her mind—she wondered about Multiple Sclerosis.
Jordan got an appointment to see a pediatric neurologist in Sioux Falls on January 29th, 2021, but her condition kept deteriorating. Her balance was bad, and she fell. She had double vision, and the ringing in her ears sounded like the roar of a truck engine. It was January 15th, and Megan didn't think they could wait any longer. "So, Jordan and my mom and I and my two younger kids all got in the car drove to the emergency room in Sioux Falls," says Megan. "I had to help her walk in the door. Once she sat down in a wheelchair in the ER, she didn't walk again for two months." Jordan was admitted for further testing. Megan's hunch was right – Jordan was diagnosed with Pediatric Multiple Sclerosis. According to the Multiple Sclerosis Society, there are fewer than 5000 cases of it in the U.S. Jordan stabilized with steroids and other medications to treat the effects of the MS.
On January 27, Jordan was transferred to Children's Specialty Hospital at LifeScape, South Dakota's only pediatric rehabilitation hospital. Megan immediately felt comfortable with the nursing care Jordan was receiving. "The nurses there are very knowledgeable and good at what they do," says Megan. "They are also very comforting and attentive. I felt like I couldn't leave her side until she went to LifeScape, where they knew how to take care of her." Megan would spend all day with Jordan, tuck her in, and turn her over to overnight nurse Christine Garbers, RN. She'd then spend the night with her mom and sons – Jayce, 8, and Jaxton, 2—at the home of her mother's friend. "I was fortunate to be there with my daughter, but when I wasn't, I was comfortable leaving her, because the nurses really took good care of her. They care for the patients like they are their own kids."
The nurses oversaw her new medication regimen. The nursing assistants made sure all her cares were in order. She got intensive therapy three times a day. A staff psychologist helped her—and her mother—adjust to the diagnosis. She was checked on by Julie Johnson, MD, and Physician Assistant Charlie Broberg, who specialize in Physical Medicine and Rehabilitation (PM&R). Megan says Social Worker Morgan Jurgens was her right-hand person and that Care Coordinator Shannon VandenBosch, RN, went way above and beyond to ensure she had all the information she needed to move forward with Jordan's next phase of care.
Megan was grateful for all the staff at LifeScape and felt that the nursing staff was the glue that held it together. "I know people are under a lot of stress when they are there, and I think the nurses kind of bear the brunt of that sometimes," says Megan. "I watched them with other kids. For the kids that didn't have families there, the nurses filled that role of the mother. They were everything to those kids."
Rehabilitation nurses help patients in their move toward independence by setting realistic goals and treatment plans. Megan feels the nursing staff at LifeScape's Specialty Hospital did that. Her daughter was discharged after two weeks, stronger and more independent than when she came to LifeScape. She has been hospitalized once since then with a relapse of the MS and will go to the Mayo Clinic for scans and medication management every six months for the foreseeable future. Now 14, Jordan gets physical therapy at LifeScape in Rapid City, which will continue to be there for her. She gets fatigued but walks now – even runs. Life will be about managing her MS, but she has a normal life ahead of her.
Megan feels all the right people were in place to help Jordan when she needed it most. "I feel like they are empowered by God to time things perfectly," she says. "I'll never forget my time at LifeScape. Please thank everyone."