LifeScape has been there "every step of the way" for Michelet
September 22, 2021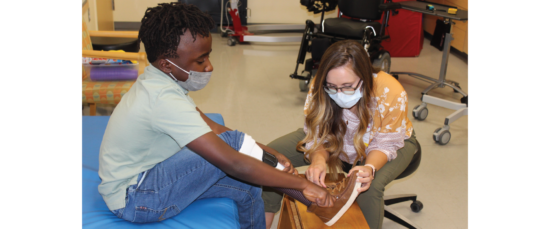 Children in Haiti have little access to medical care, so when Michelet was born there with hydrocephalus—a build-up of cerebral spinal fluid in his brain—his mother was told he would not live. She took him to every doctor she had access to, but the needed surgery was far beyond the means of a poor single mother. Michelet survived, but his mother died when he was 11 months old. His grandfather cared for him as best he could but learned that Michelet could get medical care in an American-run orphanage. Untreated, the buildup of fluid causes the skull to expand, so when Michelet entered the orphanage at age two, he was unable to hold up his head, roll over, or walk. Soon, though, he would meet someone who would change his life.
It was the summer of 2011, and Shylah Slaughter of Rapid City was volunteering at the orphanage. She fell in love with the sweet-tempered little boy, who was about to have surgery at Miami University Hospital supported Bernard Mevs Hospital in Port au Prince. There a neurosurgeon would perform a procedure to create a bypass for the fluid, normalizing the pressure in his skull. Shylah convinced her mom, Gayla, previously a special education teacher, to come and care for Michelet after his surgery. A new empty nester with her husband Dwain deployed in Iraq, Gayla took the plunge and flew to Haiti. For a month, she cared for three-year-old Michelet after his surgery in a run-down hotel across from the orphanage. "I didn't know any Haitian Creole (Michelet's language) and he didn't know any English, but we made it work," says Gayla.
Within a year of her first visit, Gayla and Dwain were considering adoption, even though Dwain had yet to meet him. The process took four long years and had the blessing of Michelet's grandfather. Finally, Michelet came home to Rapid City in the summer of 2015. His journey with LifeScape in Rapid City was about to begin.
Michelet was nearly seven years old and had never stood on his feet. He had surgery on his legs almost immediately—and began therapies at LifeScape as soon as he had recovered. Within weeks, he was standing on two feet, weight-bearing for the first time in his life. He now walks with the support of a gait trainer. Michelet has worked hard ever since to get stronger and more independent through occupational and physical therapy.
Much of his occupational therapy has focused on the Activities of Daily Living (ADLs) that provide independence. Basic ADLs include dressing, transferring in and out of a car, and using the bathroom. "He is working on taking off and putting on his socks, orthotics, and shoes all by himself, and is making great progress," says LifeScape Occupational Therapist Jess Moum. "We want to increase his independence at home and school for daily tasks like using the bathroom and getting his pants and shoes on." Another goal is to improve his grip for handwriting. Michelet, now 13, loves to read and enjoys going to school.
This past June, Michelet had Selective Dorsal Rhizotomy (SDR) surgery at Gillette Children's Hospital in St. Paul, MN. The procedure corrects muscle tightness by selectively cutting nerve rootlets in the spinal cord that are sending abnormal signals to the muscles. The goal is to relax his muscles for better control of his arms and legs.
Jess (as well as Physical Therapist Sharon Thompson) worked with Michelet's Gillette team on his post-recovery therapy plan. She says the surgery has made a huge impact on his progress. "In the past he had struggled with flexibility and coordination, but he has made significant gains in this area alone," says Jess. "We are pushing him to new limits and impressed every week with what he is showing us."
Michelet currently gets therapy three days a week, catching up on development he missed in the first seven years of his life. He continues to make regular progress, always meeting the new goals the LifeScape therapists set for him.
The Slaughters are grateful for LifeScape's support. "He has worked over the years now with lots of different therapists and I think Michelet would say that every one of them is his favorite," says Gayla. "We've loved them all. They are all just so sweet and so precious and work so hard with him and us. They keep saying, 'We just don't know his potential!' They really believe in him; I just love that about them."
Gayla says LifeScape has always been there for them--even before they brought him home, they were excited to meet him and start working with him. "They've literally been with us every step of the way."