LifeScape artists chosen for DTSF Art Box program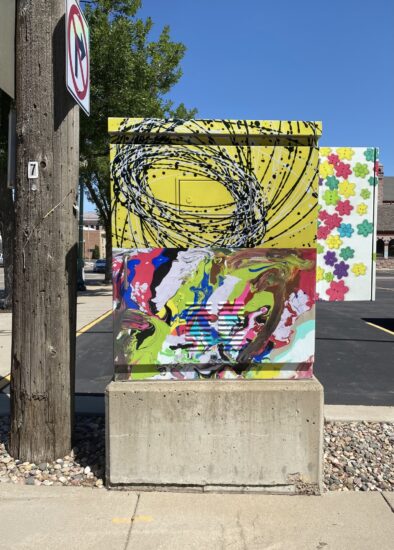 Nine artists supported by the LifeScape Center for the Arts were chosen to participate in the "DTSF Art Box: Outdoor Gallery" program. Their art was installed August 9th on a utility box at 14th and Main, one of 26 to be wrapped in art in downtown Sioux Falls.
The Center for the Arts and the Sioux Falls Arts Council unveiled the art at 5:30 p.m. on August 17th, with the artists in attendance: Sharla Ratzlaff, Jasmine Swanson, Haley Swanson, Becky Mayrose, Kelsey Keegan, Zeek Melchor, Tyler Musch, Samantha Griebel, and Hannah VanDenBosch. The nine split an artists' stipend of $600.
Sioux Falls is one of sixteen communities nationwide to receive grant monies from Bloomberg Philanthropies for a public arts initiative. The DTSF Art Box project showcases the work of regional artists and celebrates diversity and inclusivity by prioritizing work from minority communities.
The public art project is made possible by a $25,000 grant from Bloomberg Philanthropies' Asphalt Art Initiative, whose goal is to "breathe new life into neighborhoods and urban infrastructure." It was matched with an additional $25,000 from Downtown Sioux Falls, Inc. Other partners are the Sioux Falls Arts Council, the City of Sioux Falls, and the Sioux Falls Area Community Foundation.
"This is a fantastic way to showcase our artists," says Jamie Richardson, Artistic Director for the LifeScape Center for the Arts. "They are so excited to share their art with the community. It's joyful, it beautifies, and it comes from the heart of each artist. We are thrilled to have them honored."