LifeScape alum and board member Mark Sternhagen honored as Outstanding Individual with a Disability
October 6, 2021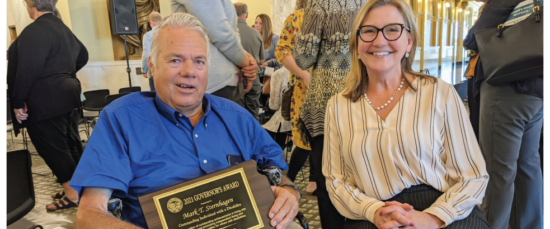 LifeScape board member Mark Sternhagen of Brookings was honored October 5th as South Dakota's 2021 Outstanding Individual with a Disability.
He received the award in the Capitol Rotunda in Pierre from the Department of Human Services as part of the annual Governor's Award Ceremony. Others recognized were Outstanding Employee with a Disability, Outstanding Employers, Outstanding Transition Services, and Distinguished Service.
Mark was nominated by SDSU President Barry Dunn, with supporting letters from LifeScape CEO Steve Watkins and (then) Brookings Mayor Keith Corbet. Current Brookings Mayor Oepke G. Niemeyer proclaimed October 5th Mark Sternhagen Day in Brookings, in honor of the award.
He has served as a member of the Governing Board of Directors for LifeScape since 2014. "Mark brings depth and perspective to board meetings and strategic planning, providing input and vision from his viewpoint as a person with different abilities," says LifeScape CEO Steve Watkins. "He is a tireless worker in bringing forward ideas and solutions relating to people with disabilities, especially concerning their basic rights and opportunities, but further pursuing open, welcoming access to all people living with disabilities."
Mark graduated from high school at LifeScape (then Crippled Children's Hospital & School) in 1973. He had contracted polio as a toddler, after missing the vaccination day in his hometown of Scotland, SD, because he had a fever. He went on to earn bachelor's degrees from Dakota State University (Vocational Technical Teacher Education) and South Dakota State University (Electronic Engineering Technology). He graduated from SDSU with a master's degree in Industrial Management and taught in their Electronic Engineering Technology department for 33 years. He runs a computer consulting business from his home, providing networking and computer service and support.
Besides writing two books on his experience with polio, Mark advocates in any way he can for vaccinations, including for COVID-19. "If I could go back and get the polio vaccination, I sure would," says Mark. He also serves on the Brookings Disability Awareness Committee and the state Independent Living Council.
We are proud of Mark's many accomplishments and value his perspective and input at LifeScape. Congratulations, Mark!