LifeScape AbleKids helped my son find his voice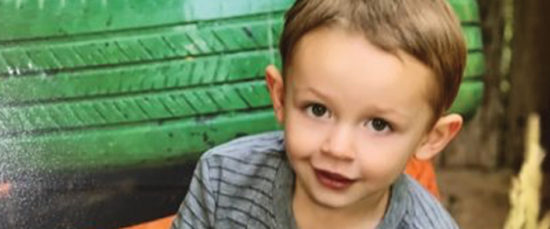 By Kayla Briese
I had heard the phrase, "be an advocate for your kid," but I didn't fully understand it until just recently. Landon looks like a typical four-year-old. He loves dinosaurs, his brother, ice cream, and pizza. If you saw our family walking down the street, we'd look like a traditional family. Just a mom, dad, and two rambunctious brothers, ages two and four.
The first time I heard my son say, "I love you, Mommy" was right around his 4th birthday. That should be a pretty simple sentence to form for any four-year-old; however, in our world, this was a big deal—monumental, even. At the age of two, he was described as "nonverbal." I wasn't sure if I would ever hear him say, "Mommy," let alone that he loves me. When he finally spoke, I cried happy tears.
Landon's only medical diagnosis is a developmental speech delay. It seems so minor when you look at it on paper, but to live it every day is entirely different. Imagine you were living in a foreign country. There is no guidebook or translator there to help you. There is no one that understands your wants and needs when you need to communicate. That has to be frustrating... then add being a toddler into the mix. Feeling as though you were in a foreign country was Landon's life for several years. During that time, he adapted the only way he knew how, which created some interesting and difficult behaviors to overcome. Landon can become very upset because the words are in his head, but they don't flow to his mouth. Landon's a very intelligent, kind-hearted kid, but when he reaches a certain level of frustration, it's difficult to calm him down. I could see my son struggling and I wanted to fix it, but I didn't know how without help. LifeScape AbleKids made everything possible. I sincerely don't know where we would be without the guidance of our Speech-Language Pathologist, Pennie Tesch. I know Landon's success is largely due to her.
Pennie's experience and knowledge has been indescribable. She doesn't see a patient, she sees a unique person. Without her patience and perseverance, I don't know how we would have made progress in his speech. As Landon's mom, I appreciate her willingness to try new activities with Landon—to experiment with activities that engage him. I've never been made to feel ashamed or been shrugged off when I've brought questions or concerns to her attention. When I thank the Lord for my blessings, Pennie is always on my list.
A lot of kids Landon's age participate in sports during the week. A typical week for us includes two speech therapy sessions, and we are perfectly happy with that. I'm confident that someday he'll tell me all about the grand slam he hit at baseball practice or the awesome three-pointer he shot during a scrimmage, and we will have LifeScape AbleKids to thank for that.
He's at the age where preschool and kindergarten are on our minds. In our world there will be a ton of what we call "front-loading." This is the prep-work Landon needs to be successful. It can look like touring the classrooms, meeting the teachers, and taking pictures of the new school. Calendars and routines are great visual helps for Landon. They've been crucial in his progress and they will be critical for his future success.
Navigating the world of IEPs, special education classrooms, behavioral goals, speech goals, and visual aids can be hard. It's scary and intimidating. I am not an educator— these things are all new. I don't claim to be an expert in any of those areas. What I have learned, though, is that I am an expert in Landon. I know everything about Landon through cues and experience, not words. We have conversations that include giggles and smiles, tears and sobbing. I can identify his feelings by noticing a slight fist clench or quick, shallow breaths. Our conversations are different, not less. They've given me an insight to Landon that no teacher or therapist has. I am his expert. My opinion and feelings matter, but it took me a while to figure this out. I'm much more clear-headed and calm when I walk into an IEP meeting. I'm fearless when I make special requests. I'm unwavering when I have concerns. I am advocating for my son because he can't do it yet. I work hard to make relationships with the people in Landon's life. His teachers and therapists are all too familiar with me emailing, texting, calling, or randomly showing up at school just to see how his day is.
Overall, I'm excited for Landon's future. We are in a great place. He has exceeded the expectations of teachers and doctors. In the course of a year, we've gone from him speaking five words to now forming complete sentences. He can identify 15 types of dinosaurs and count to 30. He uses people's names and expresses his wants and needs. He has developed friendships with adults and children. There was a time in our lives when I didn't think these things would ever be possible, and now I'm thrilled to see what else he has up his sleeve. I will never stop advocating for my son because I know he's never going to give up learning and living his best life. I'm excited to see him in speech and drama or basketball. I'm excited to see him choose a college major. The future is promising for Landon, and I can attribute this to the help we've received from LifeScape AbleKids. Thank you.