Kinsey's Story: Inpatient Rehab at Children's Specialty Hospital at LifeScape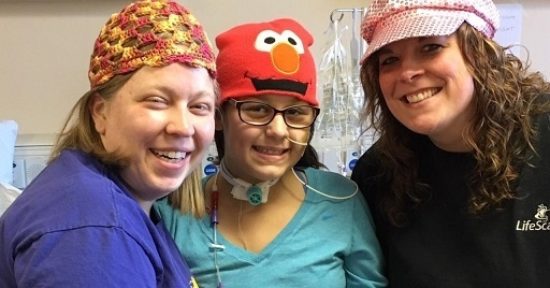 In the wee hours of October 17, 2015, Jim Capaldo of Sioux Falls rushed his 12-year-old daughter Kinsey to the hospital emergency room. Her face had mysteriously become swollen two days before, and she'd been vomiting for hours. She'd already seen a doctor twice, but things were getting worse. At the hospital, her heart-lung function quickly deteriorated. In short succession, she was given a breathing tube, was heavily sedated, and put on a ventilator to help her breathe. Each day her condition grew worse. Just days after Kinsey had played a school volleyball game, her parents, Jim and Kari, were facing the very real possibility of her death.
Kinsey was out of options. Any chance of her survival depended on a risky surgical procedure called ECMO. Her parents approved the treatment, which reroutes and re-oxygenates all of a person's blood through a heart-lung machine. The goal was to allow Kinsey's lungs to rest and begin healing, while the machine did the heart-lung work for her. She went into cardiac arrest three times, but with medical expertise, Kinsey's strength, and fervent prayer, she was revived each time. She was then airlifted to the University of Minnesota Medical Center for further care. Her heart was weak, her kidneys, liver, and brain function in peril, and in the coming weeks, she endured countless surgeries, plus pancreatitis, collapsed lungs, fever, and a tracheostomy (breathing tube through the throat rather than through her mouth). Kinsey prevailed, and was weaned from the ECMO machine and graduated to a smaller breathing tube. With the help of the Centers for Disease Control and Infection Disease, Kinsey's illness was eventually diagnosed as pneumococcal pneumonia. They still have no idea how she got it. It serves as a dramatic reminder of how fragile life really is, and how quickly lives can change.
Discussion began of transferring Kinsey to a rehabilitation hospital for recovery. The family was delighted to discover that she could be treated literally blocks from their home in Sioux Falls—at Children's Specialty Hospital at LifeScape.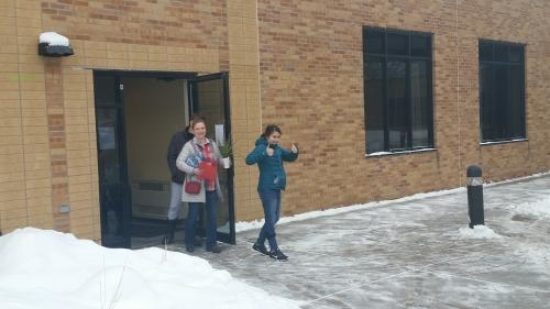 "That was huge for us," says Kari. "We had been in Minneapolis for weeks, and things were very disjointed. We had two sons at home (Caiden and Cole, ages 14 and 11 at the time) and Kinsey was very homesick. We felt it would be really emotionally and spiritually healing for her to be back in Sioux Falls."
Kinsey was the type of patient LifeScape had in mind when it opened its 18-bed Children's Specialty Hospital in the fall of 2000. Its decades of expertise in pediatric care—both nursing and therapies—would be expanded to offer inpatient care for patients through age 21 with intensive rehabilitation or medically complex needs--closer to their own homes. It is the only Pediatric Inpatient Rehabilitation Program in South Dakota.
LifeScape's Specialty Hospital treats pediatric patients recovering from illness, accident, or surgery. That may include disorders of the brain, spinal cord, and musculoskeletal system—which may include brain injuries, spinal cord injuries, stroke, and post-orthopedic surgeries. Patients get 24-hour medical and nursing services, nutritional oversight, a social worker, physical and occupational therapies, speech-language pathology, and clinical psychology services. Evaluation for and fitting of assistive devices may also be part of an individualized treatment plan, if needed.

Kinsey transferred to Children's Specialty Hospital at LifeScape on November 24—two days before Thanksgiving--to begin rehabilitation, with Kari staying in her room. "The nursing staff was excellent and very accommodating," says Kari. "If we had a request, they really listened to what we wanted. They had cool activities for kids, too—it didn't feel like being in a hospital."
"Kinsey was treated as a valued individual and given an individualized treatment plan that was administered by a coordinated care team," says Jim. "Even her emotional care was taken into consideration." Friends came to help Kinsey celebrate her birthday, her brothers dropped by on their way home from school, and even Rocco the family dog visited for cuddles and emotional support.
"At one point, a decision was made to remain in the hospital at LifeScape for another month to expedite rehabilitation through continued therapy treatments," says Jim. "That was an excellent recommendation for which Kinsey has no regrets, even though an extra month in the hospital was a hard pill to swallow. We found that working with the rehabilitation team was Kinsey's greatest, though not the easiest, experience at LifeScape. The therapy team at LifeScape has had a lifelong impact on Kinsey and or family."
Kinsey's "go home" day from LifeScape was January 21st, 2016—100 days after that first trip to the emergency room. Scans now show higher than average lung capacity, and she has taken up cross country (like her brother), "because she can." The one permanent trace of her illness is a condition called "foot drop," caused by severe nerve damage to her leg from the ECMO procedure. This is helped by an athletic leg brace crafted by orthotist Bob Johansen of LifeScape affiliate RISE Custom Solutions.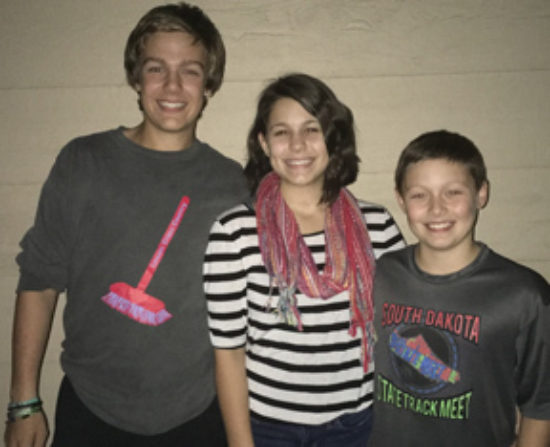 Now 15, Kinsey has her own opinions about her stay at LifeScape: "It was awesome," she says. "I wouldn't want to be sick again, but that's a place I'd want to go back to. During therapy, in rehab with Trish and Becky—they were really cool and positive and fun. They knew my limits, but would still push me."
LifeScape's multidisciplinary rehabilitation team is highly trained to care for infants, children, and teens with tracheostomies, feeding tubes, ventilators, central lines, or other complex medical issues. They work with primary care providers, families, and even schools to prepare for discharge and return to home. Area patients have the advantage of skilled treatment nearby, rather than being treated hundreds of miles from home.
After discharge, patients may transition to outpatient rehab services in Sioux Falls, Rapid City, or Sioux City. LifeScape offers physical and occupational therapies, speech-language pathology, clinical psychology, orthotics and prosthetics, and durable medical equipment services and support, as well as follow-up care with our pediatric physical medicine and rehab providers.
The Capaldos want other families in their situation to know about Children's Specialty Hospital at LifeScape as an option. "They are patient-centered, they are effective, and they collaborate well with other community organizations," says Jim. "Finding such an option in Sioux Falls verged on the miraculous for us."