Kaymbria makes gains "her brain shouldn't allow her to do"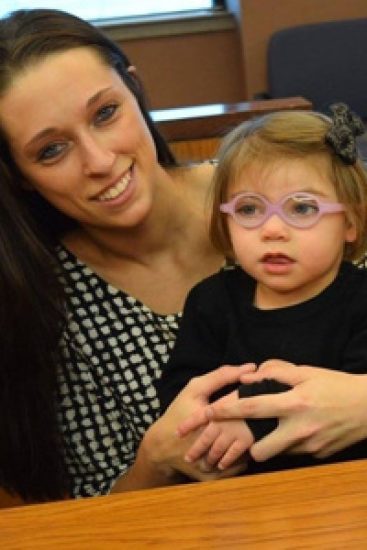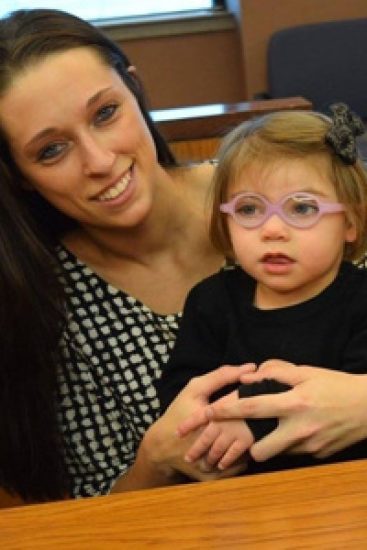 Kaymbria was admitted to LifeScape's Inpatient Rehabilitation Unit three weeks after her brain injury. She was not quite four months old, and the plan was to get her strong enough to go home to a loving foster family. This is where Brittany Lux comes into the story—soon to be the most important person in Kaymbria's life.
Brittany had recently completed training and preparations to become a foster parent. As a registered nurse in LifeScape's Behavioral program, Brittany had always felt called to help others.
She was surprised to learn that her first potential foster child was a baby cared for on a different unit at work. She was nervous when she went to meet her. "I was shown this beautiful baby, and asked if I wanted to hold her and feed her." Brittany agreed to take her, although she admits—as a single person—she felt somewhat overwhelmed when she brought Kaymbria home in January 2014. Soon they were in a routine, however. "It didn't take long to become an expert in everything Kaymbria-related," she says.
"At first, she just stared at lights," says Brittany. "She couldn't hold her head up, and didn't care if she was held or not held. She didn't play or make eye contact and rarely smiled." Brittany's medical training was definitely a plus, as Kaymbria was sick a lot at first, mainly with respiratory illnesses. At one point she was admitted to the hospital to have a burr hole drilled in her skull to release pressure. She was hospitalized for a month, but afterward showed immediate improvement—she was more social, began playing with toys, and rolled over for the first time.
At nine months, Kaymbria started intensive outpatient therapy at LifeScape Rehabilitation Center—occupational, physical, and speech therapy—as well as Birth to 3 therapy. This is when Kaymbria met another key person in her life journey, LifeScape physical therapist Melissa Beckstrom.
The site of Kaymbria's injury affects behavior and communication, which causes her to become irritable very easily. "It was pretty intense," says Brittany. "She screamed through a lot of therapy sessions. They all pushed her pretty hard; I don't know how they can stay so calm and on task."
Brittany says the therapist who showed her the most tough-love was Melissa, and she's her favorite now. "I remember asking about the next step--do we get a wheelchair or medical stroller? Melissa said, 'Let's wait, I think she's going to walk.' She set a goal for Kaymbria to take five steps independently. I thought she was crazy—she was so far from doing any of that."
Around April of 2015 Brittany got the option to adopt Kaymbria. She didn't hesitate to say yes. "My family and friends were very supportive—nobody even questioned it. They had all fallen in love with her and knew how much I loved her. When I made the decision to adopt, she was already part of the family." The adoption was final in December 2015—Brittany was now officially "Mom." (Adoption Day photo of Brittany and Kaymbria above.)
With a loving mom and regular therapy, Kaymbria was thriving. "She and Melissa butted heads for a long time, but I'm glad she was so persistent and didn't back down," says Brittany. She was meeting goals no one expected her to.
Last September, around her second birthday, Kaymbria began walking with a walker. By mid-November, she was walking unassisted. By December, she was running and jumping up and down.
"Her neurologist said that according to her scans, she shouldn't be doing any of these things—she shouldn't be this progressed developmentally or socially," says Brittany. "He says that's why they treat the person, and not the diagnosis. The therapy has helped Kaymbria's brain 'rewire' to overcome the deficits of her injury."
Now three, Kaymbria has thrived in her other therapies as well. Her speech-language pathologist, Caitlin Abbas, is working to improve Kaymbria's communication skills. At first she did speech therapy on a blanket on the floor, because she couldn't attend for more than a minute. Now she sits in a chair for 30-minute therapy sessions. She recently got a "GoTalk" communication device to help express her wants and needs. "She understands more than she's able to express, but Caitlin says not to give up on her speaking," says Brittany. "With the therapy she receives, and as her brain continues to heal over the years, her communication could improve." The same goes for her vision—her impairment isn't due to damage to the eyes, but is caused by a problem in brain processing, which could improve.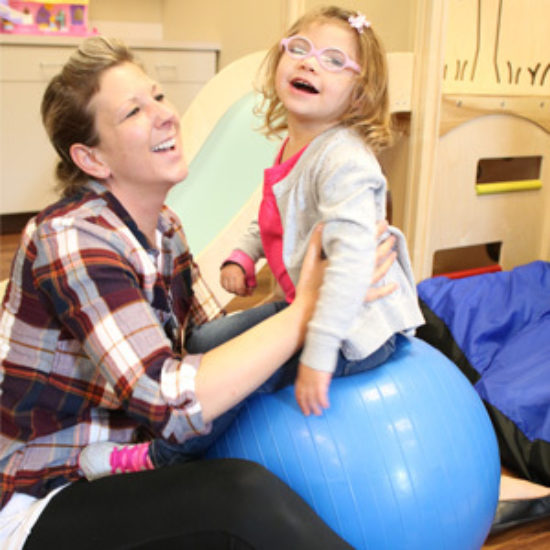 Occupational therapist Jessyca Conaway is helping Kaymbria with the paralysis on her right side, to improve the use of her right hand and arm. She also praises occupational therapist Robin Mills, who is working with Kaymbria's sensory processing challenges.
"LifeScape is the reason she's come as far as she has," says Brittany. "There's only so much you can do at home, but here everyone has the expertise, and they love her to death. Everyone—from the front desk to the orthotists to the therapists—are more accommodating than I could ever wish for." As for Melissa, "It's because of her that she's walking now and climbing steps completely by herself." (Melissa and Kaymbria are shown in a recent therapy session below.)
Brittany says it's important to remember that Kaymbria will become a teenager and adult someday, and her greatest hope is that her daughter will be respected and seen as an individual. "We need to continue to build a society and community that is accepting of different abilities," she says.
A quote on Brittany's wall at home says, Every family has a story…welcome to ours. "People tell me that Kaymbria is lucky to have me, but I know I'm the lucky one," says Brittany. "She's changed me, and made me a better person. I can see now the blessings in the smallest moments, and I've become more compassionate and appreciative of all the people who have helped us along the way."