Hamsters USA raises $550,957 for LifeScape Rapid City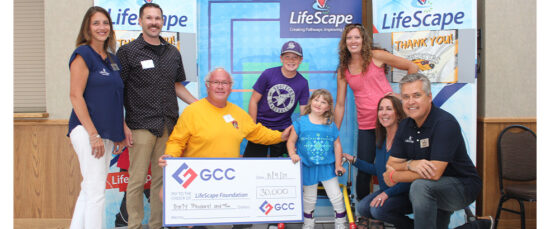 Hamsters USA, the international motorcycle group with big hearts, roared into western South Dakota to make an unparalleled impact for local kids with disabilities! These amazing guys came together to raise funds for LifeScape of Rapid City totaling an unprecedented final amount of $550,957, all staying local to support children with disabilities in western SD!
Hamsters USA has raised and donated funds at their annual meeting for the last 16 years, with a deep desire to give back to the greater Black Hills community, which many Hamsters consider their second home. Their gifts help provide services to children in their Black Hills area homes and communities, delivered by LifeScape personnel who drive over 10,000 miles a month to provide services. Inspired by little Ruby Lehmann, who spoke on stage with her mom, Shannon, and her brother, David, the Hamsters stepped up to do more than ever before! Hamsters stormed the stage to give cash and credit card pledges, which were matched by John McCarthy and Bobby Garone. That piece of the presentation raised approximately $204,000 alone!
At only nine months of age, Ruby was diagnosed with spastic diplegic cerebral palsy after her parents noticed she wasn't meeting typical milestones, such as rolling over and sitting up on her own. Doctors believe Ruby had a stroke in utero early in her development, which prevented part of her brain from fully forming. It affected three-fourths of her body – her entire left side and her right leg. Ruby started physical and occupational therapy at 10 months, and at the age of three, began speech therapy, primarily for a "funky gag reflex." She had braces on her feet and began receiving additional therapies through LifeScape. RISE Custom Solutions, a subsidiary of LifeScape, fitted her for a reverse walker and wheelchair when she outgrew the hospital walker.
Ruby now receives physical and occupational therapies at school, as well as through LifeScape. She is a very determined young lady, proving doctors wrong and surpassing all expectations. She is extremely smart and very artistic. She also thinks very literally, so a vivid imagination is not as evident, but she is very vocal and opinionated. Ruby plans to start dance in just a few weeks and enjoys horse-riding therapy and water therapy. She has received Botox injections into her tight muscles to help with her gait, and it has made a difference.
LifeScape's mission is to empower children with disabilities to lead fulfilling lives. Ruby's mom is so grateful that LifeScape is here for Ruby, and she is also so grateful for donors, like the Hamsters, that come together to make sure the high-quality services provided by LifeScape are available to families like theirs. Strong-willed and extremely determined, Ruby wants to be a doctor when she grows up. Her mom, Shannon, says "I will do anything and everything possible to make sure she is the best she can be."
Jessica Wells, President of the LifeScape Foundation, added, "We are just completely blown away by these incredible men. They amaze us year after year, and this year is even more exceptional. We are so grateful for 16 years of commitment and caring from this very special group of gentlemen. Their love of the Black Hills of South Dakota and the local children they support shows through in the incredible dollars they raise and the heartfelt sentiments they share. These guys warm our hearts every year – our services would look very different were it not for them."