Hamsters USA raise $291,472 for kids' therapies at LifeScape-Rapid City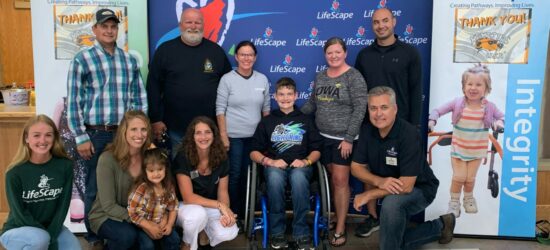 The international motorcycle group Hamsters USA raised $291,472.00 on August 7th for kids with disabilities served by LifeScape in Rapid City. The fundraiser was part of their annual meeting held in Spearfish during the Sturgis Motorcycle Rally. This year, Hamsters USA also celebrated 45 years as a group.
Lt. Gov. Larry Rhoden attended and auctioned a branding iron for $3500 that went toward the proceeds.
Two children served by LifeScape also attended and met Hamsters and the Lt. Governor. Jobi, four, is from Rapid City. She is the daughter of Kate and Tyler Berger. Javin Smith-Williamson, 13, is from Spencer, IA, and is the son of Amanda Smith.
Over the past 18 years, Hamsters USA has raised over $4 million for LifeScape in Rapid City. The funds help assure that physical, occupational, speech, and behavioral therapies are available for kids in the Blacks Hills and beyond in West River. Besides the clinic site in Rapid City, clinicians from LifeScape drive over 10,000 miles each month to deliver outreach therapies to kids in their own communities – in their homes, schools, and daycare centers. This allows children living long distances from Rapid City to receive developmental help without their parents having to take time off work to drive them to Rapid City for therapies.
LifeScape's mission is to empower children with disabilities to live their best lives.
"Our gratitude to Hamsters USA is deep," says Jessica Wells, President of the LifeScape Foundation. "Their contributions truly help keep services viable in western South Dakota. As parents tell us often, there is no place else with this kind of pediatric care for children on this side of the state."