Hamsters USA Arizona Bike Week raises $65,156 for special kids at LifeScape in Rapid City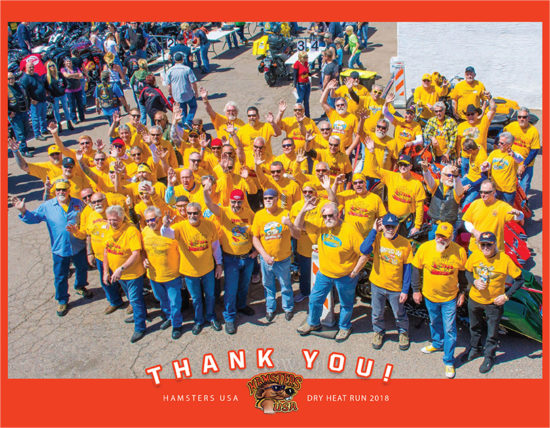 Hamsters USA, the international motorcycle group with big hearts, kickstarted their 2018 fundraising efforts with a HUGE ROAR heard in the desert thanks to the Arizona Hamsters! Talk about a burnout – they are RUNNING FULL THROTTLE! The 2018 Arizona Bike Week Dry Heat Charity Run raised $65,156 for children with disabilities supported at LifeScape in western South Dakota!
Hamsters USA has raised and donated funds annually for the last twelve years, wanting to give back to the greater Black Hills community, which many Hamsters consider their second home. Last August's event brought their cumulative total for 12 years to over $2.7 million in total dollars raised for LifeScape Children's Care in Rapid City. 100% of funds raised by the Hamsters USA stay in the Black Hills of South Dakota to benefit children with disabilities. They are superheroes! Their gifts help provide services to children in their Black Hills area homes and communities, delivered by LifeScape Children's Care personnel who drive over 10,000 miles a month to provide physical, occupational and speech therapy, special education and behavioral services. This latest gift will make an immediate and significant impact for these children with disabilities.