Tom still thriving at LifeScape after 60+ years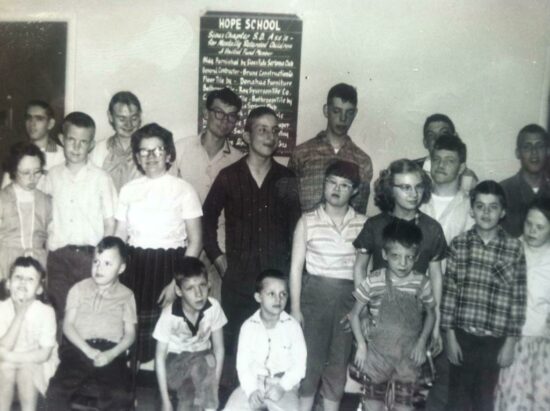 A 1961 photo from Hope School in Sioux Falls, a forerunner of LifeScape, shows a little boy in overalls and leg braces (front row), surrounded by classmates. Tom McQuisten, now 70, grew up with those children, and as adults, some lived together in a home supported by LifeScape. In fact, another little boy in the photo, Paul Anderson (front left), is a roommate of Tom's today, 60 years later. "It's like a family," says Tom's brother, Jim McQuisten. "LifeScape has totally enhanced his life, he has thrived there."
Tom, who was born with a chromosomal difference, began attending Hope School in 1959, and graduated in 1972. He immediately enrolled in the day program at Sioux Vocational Services, also a predecessor of LifeScape. In the mid-1990's, he moved into a home supported by the organization. Jim says that knowing that Tom was well cared for provided huge peace of mind to their parents, Ed and Cora, who passed away in 2007 and 2008.
"I've always been impressed with LifeScape," says Jim. "What they stand for and what they're achieving—we find that uplifting and commendable, and that's why we decided to make them part of our legacy." Jim's gratitude for the decades of support his brother has received is what made him decide to make a major gift to LifeScape in honor of his wife, Donna, who passed away in May 2021.
Jim said they had already decided to provide for LifeScape in their estate plan, but on the day that Donna died, Jim made a decision to make an immediate gift in her honor. He said it was to express the appreciation they both felt for Tom's excellent care at LifeScape.
He looked into the Required Minimum Distribution that all holders of IRAs (Individual Retirement Accounts) age 72 and older must take. Many people may seek tax-advantaged ways of taking their distribution and choose to direct the funds to a charity like LifeScape, rather than a distribution of regular income.
With a little research, Jim soon discovered a smart option, the Qualified Charitable Distribution This satisfies the RMD up to $100,000 for people at least 70 ½ years old who meet other guidelines. A QCD is a great way to keep taxable income lower and make a significant impact in your community.
Jim says he took his late wife's net worth and intends to divide it into ten years' worth of annual gifts to LifeScape. "I decided I'm not going to wait until I die to help," says Jim. "There's no sense in it sitting in the bank when it can go to work right away for people who need it. It honors Donna, it honors Tom, and it makes me feel like I'm doing something good for people who need it."
Jim says Donna was the most beautiful woman he ever met, but he really knew she was a keeper because she took to Tom right away. Tom also adored Donna and enjoyed coming to their home for Donna's excellent home-cooked meals. "She was easygoing and unassuming, very much like Tom," says Jim. "When she realized how I felt about LifeScape, she always made sure we made an annual gift, too. We've been extremely appreciative."
To learn more about QCDs and other charitable gift options, contact Director of Major Gifts Kameron Nelson at Kameron.Nelson@LifeScapeSD.org or call (605) 444-9800.
To make a direct gift to LifeScape, click here.

Photos below: Tom celebrating Christmas 2017 with his sister-in-law Donna, goofing off recently with brother Jim, and lifelong friends Paul and Tom today.