Volunteer program thrives under direction of Becky Sluiter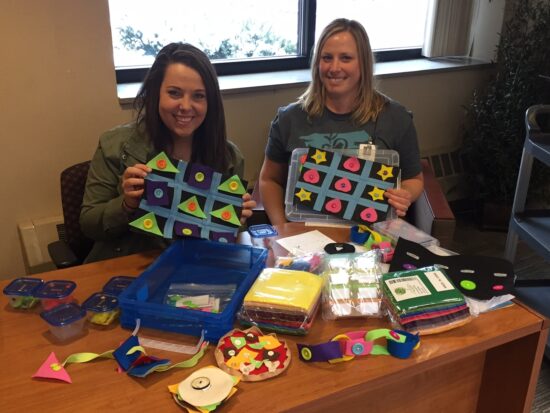 After working for a nursing home and other community support agencies Becky Sluiter realized she had a passion to empower people to live their best life. Becky joined the LifeScape team in 1999 as the Volunteer Coordinator. Today Becky oversees all of the volunteer services that support LifeScape.
The main goal of the volunteer services area at LifeScape is to recruit and match community volunteers (groups or individuals) skills and talents with a LifeScape need. Volunteers, of all ages, can be recruited to share their time and talents for a specific one-time project or be matched as a long-term mentor with a child or adult supported by LifeScape with similar interests. Volunteers 16 and under are welcomed to with an adult companion. LifeScape volunteer services listens to the volunteer and works hard to find your niche to feel part of the LifeScape family. Many high school students volunteer as part of their career learning processes as well as obtain hands-on learning experience from LifeScape's interdisciplinary teams. Becky says that groups of volunteers are welcome to share their time as a one-time opportunity or as regularly scheduled volunteers. Becky also wants people to know that there are projects such as sewing, baking treats, craft prep, wood working, fixing toys, and much more that allow volunteers to share their talents and resources without leaving their home.
Becky also works with all of the community donations that are given to LifeScape hand coordinates getting them to those that need them most. During the fall and winter season part of Becky's job is to ensure all children and adults supported by LifeScape, who otherwise would not receive a Christmas Gift, have a few gifts under their tree and the sparkle of feeling loved during the holidays. Becky says, "The Sioux Falls community is a great place to live because of its generous and compassionate community members. I get to match community members who want to make a difference in the lives of children and adults to inspire meaningful, interactive, and fun outcomes for everyone. My favorite part of my job is watching two people who just met, come together to accomplish a task or just to play, overcoming communication barriers and working together with the end result of smiles, laughter, a day of meaningful experiences, an excitement of 'you've got to try this!' inspiration, and a new friendship. It's always a great day when Volunteers are sharing their friendship with LifeScape in any way!"
There are many ways to volunteer to share your talents and friendship with LifeScape. During this COVID time, LifeScape's precautions prohibit in-agency volunteer opportunities however we welcome community members and families that want to get involve with the granting a Christmas wish, outdoor projects, LifeScape fundraisers, or at home projects to reach out to LifeScape. If you would like to get involved with volunteering at LifeScape, contact Becky and at Rebecca.Sluiter@LifeScapeSD.org
Photo Above: Becky Sluiter, right, with an occupational therapy student volunteering for LifeScape